Maya Angelou's Roasted Chicken
Eat Well With This Chicken Recipe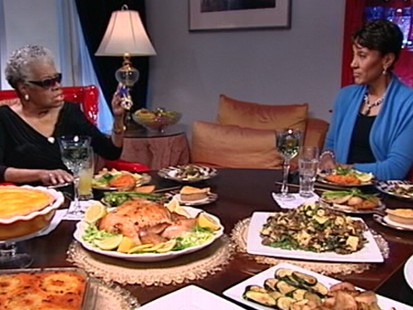 Angelou's latest book is full of her own healthy recipes.
From the kitchen of Maya Angelou
Maya Angelou shares one of her favorite dishes, roasted chicken. Give it a try tonight with your family.
Ingredients
Juice of 1 lemon
One 8- pound roasting
chicken
2 tablespoons (¼ stick) butter
½ teaspoon salt, or more if
desired
½ teaspoon pepper, or more
if desired
1 unpeeled Granny Smith
apple, cored and cut into
pieces
1 celery stalk, cut into
medium- sized pieces
½ cup chopped green lettuce
Cooking Directions
Preheat the oven to 350°F.
In a small cup, mix together the lemon juice and 1 cup
water. Set the lemon aside.
Wash the chicken in the lemon juice mixture. Pat dry.
Rub butter over the chicken.
Liberally salt and pepper the chicken outside and inside.
Place the apple and celery in the chicken cavity. Place the
chicken in a roasting pan.
Place an extra- large piece of aluminum foil over the
chicken, leaving a generous air pocket over the top of the
chicken so the foil does not touch it. Crimp the ends of
the foil to the sides of the pan, creating a tent.
Bake the chicken in the tent for 1- ½ hours, partially
removing the tent periodically to baste with panjuices.
Remove the foil and reduce the oven temperature to 325°F.
Bake the chicken uncovered for 30 additional minutes.
Once the chicken is done (when the internal temperture
reaches 160°F) done, remove the skin and slice for serving.
Serve with simple lettuce and garnish with a very thin
slice lemon, if desired.
This recipe was styled by chef Karen Pickus for Good Morning America.
This recipes is courtesy Dr. Maya Angelou from her cookbook "Great Food All Day Long"
Recipe Summary
Main Ingredients: lemon, chicken, butter, granny smith apple, celery, lettuce
Course: Dinner
More Info: Kid Friendly