Maya Angelou's Roasted Vegetables
Fill Up on These Roasted Vegetables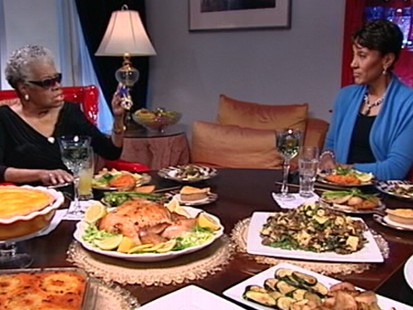 Angelou's latest book is full of her own healthy recipes.
From the kitchen of Maya Angelou
|
It's always hard to get kids to eat vegetables. It might get a little easier with Maya Angelou's delicious recipe.
Ingredients
1 rutabaga, quartered
2 turnips, halved
1 potato, quartered
3 carrots, peeled one halved
4 small peeled white onions,
whole
1 eggplant, peeled one
quartered lengthwise
1 zucchini, sliced into ¼- inch
slices
2 yellow squash, sliced into
¼- inch slices
10 asparagus, large, hard
ends snapped off and
discarded
6 broccoli florets
Seasoning
3 packets dried onion soup
mix
3 tablespoons extra virgin
olive oil
2 tablespoons granulated
garlic
1 teaspoon seasoning salt,
such as LAWRY'S
½ teaspoon fresh/ground
Pepper
Cooking Directions
Grease a large shallow baking pan.
In large saucepan, bring 1 quart water to a boil over high
heat and add the rutabaga, turnips, potato, carrots, and
onions. Boil for 4 minutes.
Drain and allow to cool for 30 minutes.
Preheat the oven to 350°F.
While cooling, prepare the seasoning. In a small bowl, whisk
together the soup mix, olive oil, garlic, salt, and pepper.
Rub the seasoning over the eggplant, zucchini, squash,
asparagus, broccoli, and boiled vegetables, coating completely,
and place in the pan.
Bake for 35 to 40 minutes, until as brown as desired.
This recipe was styled by chef Karen Pickus for Good Morning America.
This recipes is courtesy Dr. Maya Angelou from her cookbook "Great Food All Day Long"
Other Recipes That You Might Like