Maya Angelou's Sweet Potatoes McMillan
Treat Yourself to Maya Angelou's Sweet Potatoes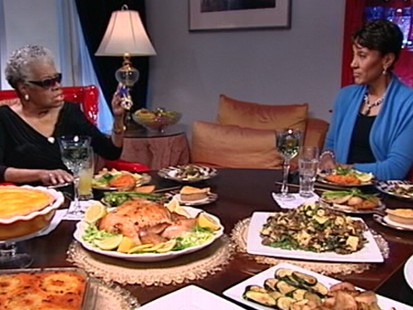 Angelou's latest book is full of her own healthy recipes.
From the kitchen of Maya Angelou
|
Sweet potatoes are an excellent source of vitamins and nutrients. Give these a try at your next family dinner.
Ingredients
6 tablespoons butter or
margarine, plus more for
pan
4 cups mashed, boiled (with
skin on), sweet potatoes
¼ cup sugar
¼ teaspoon ground ginger
½ teaspoon ground
cinnamon
¼ teaspoon salt
¼ cup Grand Marnier
2 tablespoons milk or light
cream
1 tablespoon grated orange
zest, mixed with 1
tablespoon sugar
Cooking Directions
Preheat the oven to 375°F. Butter a 1- quart casserole dish.
Melt 2 tablespoons of butter and set aside.
In a large bowl, combine the sweet potatoes, 4 tablespoons
butter, the sugar, ginger, cinnamon, and salt. Mix well.
Stir in the Grand Marnier and milk until fully incorporated.
Turn into the prepared casserole dish, brush the top with
melted butter, and sprinkle with the orange zest/sugar mix.
Bake for 30 to 40 minutes, until browned
This recipe was styled by chef Karen Pickus for Good Morning America.
This recipes is courtesy Dr. Maya Angelou from her cookbook "Great Food All Day Long"
Other Recipes That You Might Like