Emeril's Fresh Strawberry Syrup
Drizzle on Pain Perdu, French Toast to Brighten Up Breakfast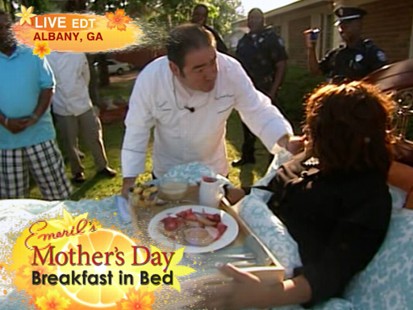 Mary Tyson enjoys a well-deserved breakfast prepared by Emeril Lagasse.
From the kitchen of Emeril Lagasse
|
The strawberry syrup is best eaten the same day it is made but may be stored in an air-tight container in the refrigerator for up to 2 days or frozen for 3 months.
Ingredients
1 pound strawberries, quartered
1 cup sugar
Cooking Directions
Combine the strawberries and the sugar in a bowl and let stand, stirring occasionally for 1 hour. Pour the strawberries into a medium size sauce pan and bring to a simmer over medium heat. Cook, stirring, for 10 minutes or until the strawberries begin to break down. Set aside to cool. Puree in the blender until smooth. Strain through a fine mesh sieve.
Yield: 1 ½ cups
Note: 1 pound of quartered strawberries used as a garnish for the French toast.
1 pound yields 4 to 6 servings.
Recipe courtesy Emeril Lagasse, copyright MSLO, Inc., all rights reserved
Other Recipes That You Might Like