Emeril's Coconut Lime Syrup
'Put the Lime in the Coconut' and Pour on Tropical Fruit Salad!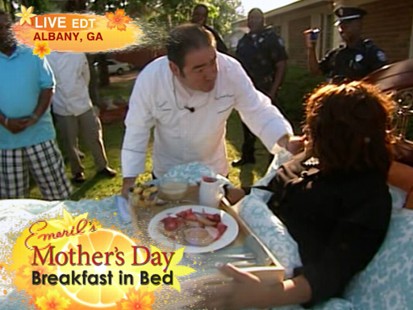 Mary Tyson enjoys a well-deserved breakfast prepared by Emeril Lagasse.
From the kitchen of Emeril Lagasse
Emeril's coconut lime syrup adds tropical flair to any fruit salad!
Ingredients
1 cup sugar
¾ cup water
¼ cup fresh squeezed orange juice
¼ cup fresh squeezed lime juice
½ teaspoon orange zest
½ teaspoon lime zest
½ cup shredded unsweetened coconut
Cooking Directions
In a 2 quart sauce pan combine the sugar, water, orange juice, lime juice, orange zest, and lime zest and bring to a simmer over medium heat. Cook, stirring occasionally for 10 minutes. Turn off the heat and add the shredded coconut. Set aside to cool.
Yield: 1 cup
Recipe courtesy Emeril Lagasse, copyright MSLO, Inc., all rights reserved
Recipe Summary
Main Ingredients: shredded unsweetened coconut, sugar, water, lime zest, orange zest
Course: Brunch, Breakfast