Renee Graziano's Meatballs
Give This Family Favorite a Try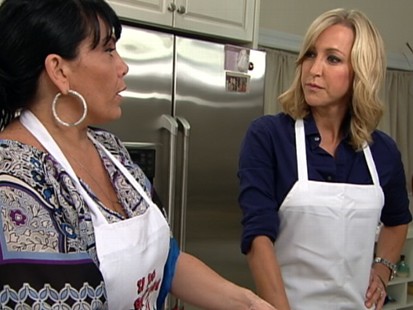 Latest installment of "GMA" on reality-TV shows sends Spencer to Staten Island.
From the kitchen of Renee Graziano and Karen Pickus
|
Reality TV star Renee Graziano shares one of her family's favorite dishes, meatballs.
Ingredients
1 LB. ground beef chuck
1 LB. ground pork
1 LB. ground veal
5 slices white bread
1cup whole milk
1/4 cup chopped fresh parsley
1 Tbs. minced fresh garlic
2 tsp salt
1½ tsps. freshly ground black pepper
3 eggs
1/2 cup olive oil for frying
Cooking Directions
Combine all of the meat in a large bowl. Soak the bread and milk together in a separate bowl. When the milk is absorbed, add the bread mixture to the meat. Add the remaining ingredients except the olive oil. Mix well.
Roll into balls 1 ½ - 2 inch round. Heat the olive oil in a 10 inch frying pan.
Fry over medium heat about 10- 12 meatballs at a time until nicely browned. Place in the sauce. Repeat as many times as necessary until all of the meatballs are browned.
Simmer uncovered on low heat until meatballs are fully cooked and the sauce mellows, about 1-1/2 hours. Remove the herb sprigs and serve.
This recipe was styled and developed by chef Karen Pickus for Good Morning America.
Other Recipes That You Might Like