The Duggars' Tater Tots Casserole
A Great Way to Enjoy a Family Favorite!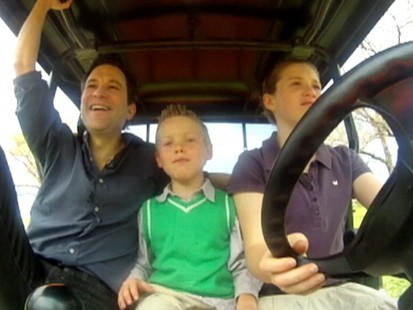 Duggar family makes room for one more when "GMA"'s weekend anchor drops by.
From the kitchen of The Duggars
Recipe written for the website and tested by Karen Pickus Chef/Food Stylist, "Good Morning America."
Ingredients
1 lb. ground beef
½ tsp. salt
½ tsp. pepper
3 lbs. Tater Tots ( 1½- 2 lb. bags)
1 10¾-ounce of can cream of chicken soup
1 10¾-ounce can of cream of mushroom soup
1 12-ounce can evaporated milk
Cooking Directions

Preheat the oven to 350 degrees.

In a 10-inch skillet brown the meat over medium high heat. Break up the meat with a metal spatula so that it is in small pieces.

Cook thoroughly and season with salt and pepper.

Drain the meat in a fine mesh strainer if necessary.

Place the meat in the bottom of a 9x12 inch glass baking dish. In a medium bowl combine both soups with the milk, mix thoroughly with a wire whisk.

Cover the meat with the Tater Tots. Then pour the soup mixture over the top and bake for 1 hour. (One of Daddy's favorites!).
Recipe Summary
Main Ingredients: ground beef, tater tots, cream of chicken soup, cream of mushroom soup
Course: Casserole