Michael Symon's Fat Doug Burger
Feast on This Gourmet Burger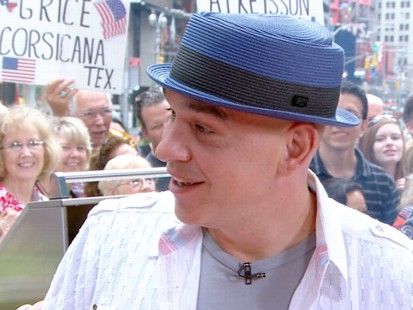 Michael Symon joins 'GMA' to make his award winning "Fat Doug Burger."
From the kitchen of Michael Symon
This meal is made for meat lovers. Michael Symon is cooking up a savory burger topped with a homemade salsa.
Ingredients
For the slaw:
½ head Napa cabbage, shredded
½ clove garlic, minced
½ small red onion, sliced thin
½ jalapeno pepper, minced
3 tablespoons champagne vinegar
1 tablespoon Dijon mustard
2 tablespoons mayonnaise
1 tablespoon sugar
1 ½ teaspoons salt
1 tablespoon Worcestershire sauce
1 tablespoon spicy mustard
For the burger:
½ lb ground sirloin
½ lb ground brisket
½ pound boneless short rib
(or 1 ½ pounds ground beef)
½ pound pastrami, sliced thin
4 slices swiss cheese
1½ tablespoons butter, melted
4 brioche or egg buns
Salt and pepper
Cooking Directions
For the slaw:
Mix all ingredients together and refrigerate for one hour.
For the burger:
Mix all the meat together really well and form into 4 equal size patties, season with salt and pepper. Grill the patties over high heat, 3 to 5 minutes per side.
Put 4 piles of pastrami in a pan over medium heat. after two minutes, top each pile with a slice of Swiss cheese, remove from pan when the cheese has melted, set aside.
Pour butter into the pan. Toast buns, cut sides down, for about two minutes or until toasted to your liking.
Assemble the burger:
Place slaw on bottom half of bun, top with burger, pastrami and cheese, then cover with top bun and serve.
This recipe was styled by chef Karen Pickus for Good Morning America.
Recipe courtesy Michael Symon, all rights reserved
Recipe Summary
Main Ingredients: cabbage, garlic, red onion, sirloin, brisket, short rib, pastrami
Course: Dinner, Main Course