Bibimbap Burger
Mixed Meal Extreme Burger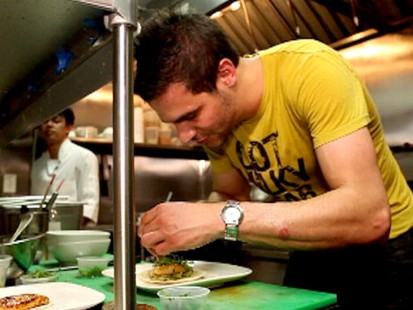 Epicurious and chef Angelo Sosa explore Asian fusion.
From the kitchen of Angelo Sosa
Charred
Bibimbap
Burger
otherwise
known
as
"mixed
meal"
in
Korean,
ground
beef,
egg,
coverd
in
lettuce
with
pickled
carrot
&
cucumber
Ingredients
GROUND BEEF 70/30 4, 5 OZ PATTIES
BRIOCHE HAMBURGER BUN, TOASTED 4 EA
LARGE ORGANIC EGGS 4 EA
ICEBERG LETTUCE, SHREDDED 4 OZ
RED ONION , THINLY SLICED 2 OZ
CHILI MAYONNAISE:
HEAVY MAYONNAISE 8 OZ
SRIRACHA 2 OZ
BIBIMBAP PICKLES:
KOSHER SALT 1 TBSP
CUCUMBER, THIN JULIENNE 6 OZ
CARROTS, THIN JULIENNE 6 OZ
BEANSPROUTS 8 OZ
SUGAR 6 OZ
GOCHUJANG 2 OZ
SESAME OIL 1 OZ
SRIRACHA 1 OZ
VINEGAR 10 OZ
Cooking Directions
BURGER PATTIES :
Gently work the meat and combine. form into 4 EQUAL 5 ounce patties. Set aside until ready to cook.
BIBIMBAP PICKLES:
After julienning the vegetables season with salt. Let sit for at least 10 minutes until a substantial amount of water has been drawn out of the vegetables.
While the salt is extracting moisture from the pickles begin to make the pickling liquid by putting sugar, gochujang, and vinegar in a blender. Turn blender on to medium setting and stream the sesame oil in steadily. Discard the water and squeeze out all excess liquid from veggies. Add the drained veggies to the pickling liquid and allow to marinate overnight
CHILI MAYO:
Combine the mayo and sriracha until everything is combined.
ASSEMBELY:
Cook the burger 2 min on each side for rare or 4 min for med rare. Once cooked allow the burgers to rest on cookie sheet with an elevated rack and rest.
In a small nonstick skillet crack open each egg in the style of a sunny side egg.
Put a nice size dallop of the mayonnaise on the toasted buns. Top the bottom bun with shredded lettuce and a few slices of the red onion. Place a nice bed of the Bibimbap pickles on top of lettuce and onion then top with the rested burger.
Grab a second small handful of the vegetables and create a nest atop the burger and tuck your fried egg inside of the nest. Top with toasted sesame bun and enjoy!
Recipe Summary
Main Ingredients: korean, ground beef, egg, lettuce, pickled carrot & cucumber
Course: Side Dish, Appetizer/Starter, Brunch, Dinner, Main Course