Tombo Tuna Poke
Epicurious and Chef Bearman taste health through food.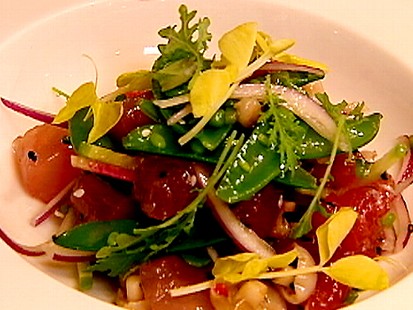 Epicurious and chef Jeremy Bearman taste health through food.
From the kitchen of Jeremy Bearman
Ingredients
Ingredients
1 lb tombo tuna cut into 3/4 inch cubes
3 tbsp soy sauce
1 1/2 tbsp sesame oil
1 tbsp black sesame seeds
1 pinch chile flake
16 sugar snap peas
3/4 cup finely sliced red onion
1/4 cup sautéed honshimeji mushroom caps
1/2 cup diced jicama
1/2 cup juliened watermelon radish
1/2 cup pea tendrils
Cooking Directions
Tombo Tuna Poke with Sugar Snaps, Watermelon Radish, Soy and Sesame
Serves 4 people
Preparation:Place the diced tuna into a bowl with the sesame oil, sesame seed, chile flake and soy sauce. Mix and let marinade for about 2 minutes. Place all of the other vegetables in the bowl and toss together with the tuna. If you feel the fish needs more seasoning, you can add a bit more soy to taste. Split into four bowls, garnish with the pea tendrils and serve immediately. This dish should be served nice and cold.?
Recipe Summary
Main Ingredients: tombo tuna, soy sauce, sesame oil, chile flake, snap peas, red onion, mushroom caps, jicama, watermelon radish
Course: Side Dish, Appetizer/Starter, Brunch, Dinner, Main Course