Emeril's Red Bliss Potato Salad with Crispy Bacon
Not Your Traditional Potato Salad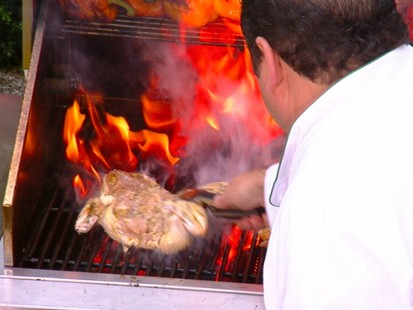 The chef prepares his "Chicken-Under-a-Brick" and his bacon potato salad.
From the kitchen of Emeril Lagasse
Every family has their own potato salad recipes, usually filled with mayonnaise and standard potatoes. Here's one that fulfill your need for flavor without hurting your waistline.
Ingredients
12 to 14 small red skin potatoes, such as red bliss, scrubbed well (about 2 ½ pounds)
1/2 cup plus 2 tablespoons olive oil
1/2 cup minced red onion
2 tablespoons diced red bell pepper
1 tablespoon minced garlic
3 to 4 tablespoons red wine vinegar, to taste
6 slices crisp-cooked bacon, crumbled
Salt and freshly ground black pepper
2 tablespoons chopped fresh parsley
Cooking Directions
Place the potatoes in a saucepan and add water to cover them by 1 inch. Season with salt and bring to a boil. Cook until the potatoes are fork-tender, 15 to 20 minutes.
Meanwhile, heat 2 tablespoons of the oil in a small saute pan. Add onion, red pepper, and garlic and cook for 3 minutes, until vegetables are softened.
When potatoes are just tender, drain, cool briefly, then transfer to a serving bowl. (Halve or quarter if potatoes are large.) Add the softened veggies, remaining olive oil, 3 tablespoons of the vinegar, crispy bacon , and parsley and toss to coat. Season to taste with salt and freshly ground black pepper. Add up to 1 tablespoon more vinegar, to taste.
Serve warm or at room temperature.
This recipe was styled by chef Karen Pickus for "Good Morning America."
Recipe courtesy Emeril Lagasse, 2004
Recipe Summary
Main Ingredients: red potatoes, olive oil, red onions, red bell pepper, bacon
Course: Party Platter
More Info: Kid Friendly