Emeril's Peach Upside Down Cake
A New Twist on a Classic Dessert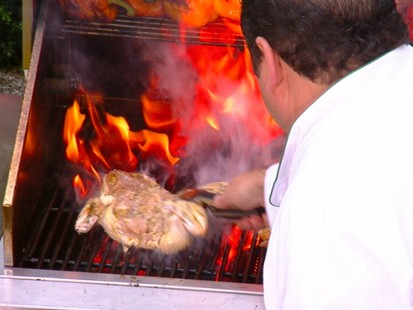 The chef prepares his "Chicken-Under-a-Brick" and his bacon potato salad.
From the kitchen of Emeril Lagasse
|
This cake is simple to make and delicious to eat. Give it a try at your next family get together.
Ingredients
1 stick unsalted butter, at room temperature, plus 3 tablespoons melted unsalted butter
¾ cup light brown sugar
One 16-ounce bag frozen sliced peaches, defrosted
1 ¼ cups cake flour
¼ cup almond meal/flour
1 teaspoon baking powder
½ teaspoon baking soda
1/8 teaspoon salt
1 cup granulated sugar
2 eggs, at room temperature
½ teaspoon vanilla extract
¼ teaspoon almond extract
1 cup well shaken buttermilk
Cooking Directions
Preheat the oven to 350 degrees F.
Grease a 9-inch cake pan with butter and then cut a piece of parchment paper large enough to line the pan. Place the parchment into the pan, easing the sides in and until you get smooth the folds along the sides of the pan, then butter the parchment.
Place the melted butter in the bottom of the pan and sprinkle evenly with the brown sugar.
Place the defrosted peaches onto clean paper towels to remove excess juices, then arrange the peach slices in concentric circles on top of the brown sugar; you should be able to fit almost the entire bag of peach slices in the pan.
In a mixing bowl whisk together the cake flour, almond flour, baking powder, baking soda and salt. In an electric mixer, beat together the remaining stick of butter and the granulated sugar until very light and fluffy. Add the eggs, vanilla extract and almond extract and mix until just incorporated. Alternately add the flour mixture and buttermilk in 3 batches, mixing at low speed until just combined.
Spoon the batter evenly over the peaches, then smooth the top with the back of a spoon. Transfer to the oven and bake until golden and a toothpick inserted into the center of the cake comes out clean, 55 minutes to 1 hour. Remove from the oven and set aside briefly, then run a thin knife around the edge of the pan, and invert a large plate on top of the pan. Using pot holders to hold the pan and plate together and working carefully, quickly invert the pan to release the cake onto the plate. Lift pan off of cake and carefully peel the parchment away from the sides and top of the cake.
Serve the cake warm or at room temperature with whipped cream or vanilla ice cream if desired.
This recipe was styled by chef Karen Pickus for "Good Morning America."
Recipe courtesy Emeril Lagasse, copyright MSLO, Inc., all rights reserved
Other Recipes That You Might Like