Amy Green's Blueberry Crumble Bars
Delicious Dessert Without All the Calories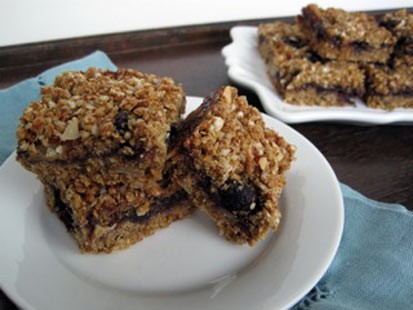 From the kitchen of Amy Green
|
I made these for a gluten-free ladies' brunch and everyone loved them. They're light enough for even
the most conscientious eater to enjoy without feeling guilty.
Ingredients
For the flour blend:
4 cups (480 grams) garbanzo–fava bean flour
4 cups (452 grams) sorghum flour
2 cups (324 grams) potato starch
1 1/3 cups (156 grams) tapioca starch
For the crumble:
1 1/2 cups quinoa flakes
1 cup Basic Flour Blend
1/4 cup palm sugar
1/2 teaspoon xanthan gum
1/4 teaspoon kosher salt
1/4 teaspoon baking soda
1/2 teaspoon ground cinnamon
1/8 teaspoon freshly grated nutmeg
1/3 cup canola oil
1/4 cup water
1 teaspoon grated lemon zest, divided
1/4 cup sliced almonds
1/2 cup fresh blueberries
3/4 cup all-fruit blueberry preserves
Cooking Directions
For the flour blend:
Mix well and store in an air tight container, preferably in the refrigerator.
For the crumble:
Preheat the oven to 350 degrees F. Lightly mist an 8 x 8-inch baking pan with cooking spray.
In a large bowl, whisk together the quinoa flakes, flour blend, palm sugar, xanthan gum, kosher salt, baking soda, cinnamon, and nutmeg. Set aside.
In a medium bowl, whisk together the canola oil, water, and 1/2 teaspoon lemon zest. Make a well in the dry ingredients and add the wet ingredients. Stir until combined. Fold in the almonds and blueberries.
Press three-quarters of the dough into the bottom of the pan. Mix the blueberry preserves with the remaining 1/2 teaspoon lemon zest. Spread evenly on top of the dough. Break the remaining dough into marble-size pieces, sprinkle them across the preserves, and lightly press in.
Bake for 35 to 40 minutes, rotating 180 degrees halfway through, until the edges are bubbling and the top is a light golden brown. Allow the bars to cool completely in the baking pan on a wire rack. Run a sharp paring knife or offset spatula around the edges of the pan to loosen the cookie before cutting into bars. Cover and store at room temperature.
From Amy Green's Simply Sugar & Gluten-Free: 180 Easy & Delicious Recipes You Can Make in 20 Minutes or Less
Other Recipes That You Might Like