Amy Green's Chewy Granola Bars
A Heathy, Tasty Snack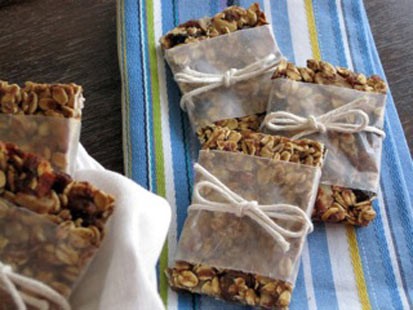 From the kitchen of Amy Green
When I make this recipe, I double it. Then I wrap the leftovers and pop them in the freezer. That way I always have a snack that will travel and something tasty and healthy to pack in lunches.
Ingredients
2 cups gluten-free rolled oats
2 tablespoons flaxseed meal plus enough teff flour to make 1/2 cup total
1 cup walnuts, chopped to desired size or 1 cup sliced almonds
1/2 cup dried black Mission figs, stemmed and chopped
1/2 cup golden raisins
1/2 teaspoon ground cinnamon
1/4 teaspoon ground ginger
1/3 cup agave nectar
2 large eggs
1 to 2 tablespoons water
Cooking Directions
Preheat the oven to 350 degrees F. Lightly coat a 9 x 13-inch baking pan with cooking spray.
Mix the oats, flaxseed meal and teff mixture, walnuts, figs, raisins, cinnamon, and ginger in a large bowl.In a small bowl, whisk together the agave and eggs. Pour the wet ingredients into the dry ingredients and mix until combined. Add water 1 tablespoon at a time to help moisten the oats, until clumps form.
Put 1 cup of the mixture into a food processor fitted with the steel blade. Pulse for 3 seconds at a time until the mixture is chopped and sticks together. You don't need to make this too fine, but it needs to be a little sticky. This helps the bars stick together.
Scoop the chopped granola into the remaining granola and mix with a wooden spoon or rubber spatula until combined. Transfer to the prepared pan. Using moist fingers, press the granola into the pan until it covers the entire bottom. Check for any little gaps and push them together.
Bake for 15 to 20 minutes, until the edges are just starting to brown. Remove the granola from the oven and let cool in the pan on a wire rack for 15 to 20 minutes. Remove from the pan and transfer directly onto a rack to finish cooling completely. Once cooled, quickly flip the granola in one piece onto a cutting board. Use a very sharp knife to cut 12 (2 x 3-inch) bars. Store in an air tight container. These also freeze well.
Quick Tip: Teff is the tiniest grain in the world and contains calcium and iron. I love the flavor and the boost it gives to the nutritional profile of these granola bars.
From Amy Green's Simply Sugar & Gluten-Free: 180 Easy & Delicious Recipes You Can Make in 20 Minutes or Less
Recipe Summary
Main Ingredients: rolled oats, flax seed, mission figs
Course: Brunch, Dessert, Snack