Stephanie O'Dea's Slow Cooker Mole
Dig Into This Delicious Dish Tonight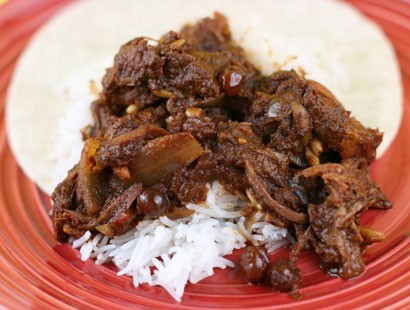 From the kitchen of Stephanie O'Dea
|
Mole is a rich, flavorful sauce that combines chilés, chocolate, toasted nuts and seeds that originated in Mexico (some believe it was the result of mixing together a bunch of other sauces). Because of this, there are many different variations. The sauce is traditionally served over rice, beans, or enchiladas. The long simmer time makes Mole a perfect dish to prepare in the slow cooker.
Mole is pronounced Mol-AY. This will not stop the "holy moly" jokes.
Ingredients
2 pounds beef chuck, cut in 2-inch chunks
1/4 cup raw sesame seeds (or sunflower seeds)
1/2 cup raw slivered almonds
1 dry California chili pod
1 yellow onion, chopped
3 cloves garlic, minced
1/3 cup raisins
1 tablespoon chili powder
1/2 teaspoon ground coriander
1/4 teaspoon cloves
1/4 teaspoon anise seeds
1 cinnamon stick
1 (14-ounce) can diced tomatoes (and juice)
1 (6-ounce) can tomato paste
1/4 cup tequilla (or white wine, or apple juice)
1-2 ounces unsweetened chocolate (I used 2 and liked it, but some found it too bitter)
1 cup water
salt to taste
Cooking Directions
Use a 6 quart slow cooker. In a small pan, brown the raw sesame seeds and almonds on the stove or in a toaster oven. Set aside to cool.
Put the meat into the slow cooker. Cover with everything else—just dump it all in, there truly aren't any rules when slow cooking. Go ahead and toss the entire dry chili pod into the pot—no need to soak first.
Make sure to remember the toasted nuts and seeds, and stir to combine ingredients. Cover and cook on low for 8 hours. Stir well and shred meat with forks. Remove the cinnamon stick and chili pod before serving. Salt to taste, and serve over rice and with corn tortillas.
It's incredible.
Stephanie O'Dea's newest slow cooker book is More Make it Fast, Cook it Slow: 200 Brand-New, Budget-Friendly Slow-Cooker Recipes.
Other Recipes That You Might Like