Home
>
GMA
>
Recipes Home
>
Richard Blais' Haute Dawg with Brisket Chili, Pickled Onions and Pepper Jack
Richard Blais' Haute Dawg with Brisket Chili, Pickled Onions and Pepper Jack
Treat Yourself to a New Twist on This Summertime Favorite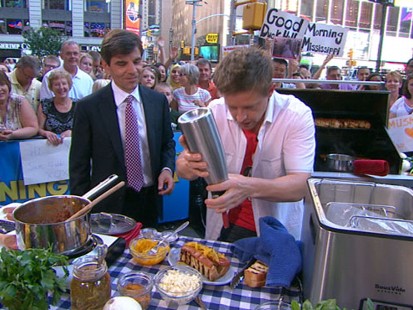 Richard Blais, winner of Bravo's "Top Chef All Stars," prepares unique hot dogs.
From the kitchen of Richard Blais
|
Hot dogs are a summmertime favorite. So, give chef Richard Blais' chili and cheese version a try for dinner tonight.
Ingredients
For the brisket chili:
1/2 lb. Beef brisket, small chop
1/2 lb. Ground beef
1/4 cup Chopped Bacon
1 small yellow onion, chopped
1 tsp. Minced Garlic
1 tbsp. Chili powder
2 tbsp. Coffee barbecue spice (From Terra Spice Co)
1 cup Chicken stock, Beef stock, or Water
1/2 cup Ketchup
1 tbsp. Molasses
1 tbsp. Yellow Mustard
1/4 cup Chopped Parsley
1/4 cup Chopped Cilantro
For the haute dog:
4 large hot dog links
4 New England style hot dog buns
Enough butter or olive oil for brushing and toasting buns
1/4 cup Chopped white onion
1/4 cup Seasoned rice wine vinegar
1 tsp Mild curry powder
3 tbsp Chili (recipe follows)
3 tbsp Shredded Pepper jack cheese
A few Cilantro leaves for garnish
Cooking Directions
Make the chili: Sweat the bacon and brisket for a few moments until the bacon releases its fat and the brisket begins to brown. Add the onion, garlic and spices and cook for a few more minutes on low heat. Add the stock or water, ketchup, mustard and molasses and cook on a slow simmer until the brisket is almost tender.
Add the ground beef and cook until the brisket is melting and the sauce is reduced and thick. Finish with the fresh herbs (optional) and a squeeze of fresh lime juice.
Make the haute dogs: Make the pickled onions by tossing together the chopped onions, mild curry powder and seasoned rice wine vinegar. Grill hot dog links until cooked though to desired doneness.
Brush New England-style hot dog buns with olive oil or butter and lightly toast on the grill.
Assemble the dogs: Place one link in bun. Top with chili, pepper jack cheese, pickled onions and cilantro. Enjoy!
This recipe was styled by chef Karen Pickus for Good Morning America.
Other Recipes That You Might Like