Stephanie O'Dea's Sweet and Sour Chicken with Mango Lettuce Wraps
Fill Up on This Savory Dish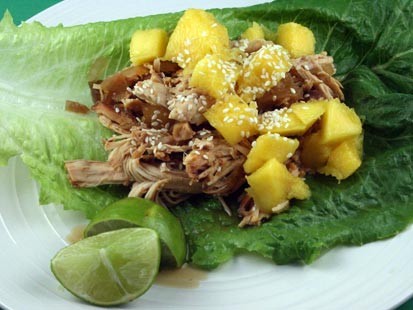 From the kitchen of Stephanie O'Dea
|
We're in the middle of a huge heat wave in the US--- and while it seems odd to think about pulling the slow cooker out of the cabinet in July, you can actually keep your house cooler by slow cooking.
Your slow cooker uses about as much power as a desk lamp, and doesn't heat up the kitchen the same way the stovetop or oven does. Slow cooking is also a better environmental choice than the propane grill or charcoal barbecue.
Here's a great summer time recipe for you and your family—enjoy!
Ingredients
2 pounds boneless, skinless breast or thigh chicken chunks (1-inch pieces, frozen is okay)
1 (10-ounce) jar apricot orange marmalade or jam
3 tablespoons soy sauce (La Choy or Tamari wheat-free are gluten free)
1 tablespoon sesame oil
2 garlic cloves, smashed and chopped
1 teaspoon chili paste (or you can use red chili flakes)
1 inch peeled and grated fresh ginger (or 1 teaspoon ground ginger)
2 cucumbers: peeled, seeded, and diced
1/2 red onion, chopped
1/2 teaspoon kosher salt
1/4 teaspoon black pepper
2 whole jalapeno peppers (don't cut, just wash and throw whole into the pot)
To add later:
2 mangoes, peeled and chopped (or 2 cups frozen mango, thawed)
2 limes, juiced
2 tablespoons sesame seeds
romaine lettuce leaves for serving
Cooking Directions
Use a 4 or 6-quart slow cooker. Put the chicken into the bottom of your pot, and add the jar of marmalade and the soy sauce. Add sesame oil, garlic, and ginger. Stir to combine. Add cucumber, onion, salt, and pepper. Toss gingerly to coat. Now place the whole jalapeno peppers on top.
Cover, and cook on low for 6 hours, or high for 4 hours. Remove the peppers from the pot (eat if you dare!) and shred the chicken fully with 2 large forks. Stir well to combine. Toss your chicken with fresh mango chunks and sesame seeds. Serve in large romaine lettuce leaves with a squeeze of lime.
other great summer slow cooking dishes:
portabella mushroom sandwiches
Stephanie O'Dea likes things quick and easy. Her newest book, Totally Together: Shortcuts to an Organized Life hits store shelves this August.
Other Recipes That You Might Like