Emeril's Spanish Style Gazpacho
The Perfect Summer Soup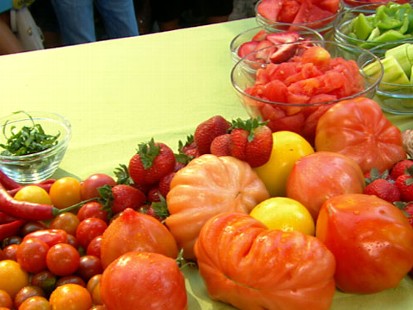 The chef whips up some zesty summer meals in height of tomato season.
From the kitchen of Emeril Lagasse
Summer's in full spring and you know what that means, right? Farmer's market tomatoes are at their peak. So pick some up today and give this healthy summer soup a try.
Ingredients
For the soup:
3 pounds ripe tomatoes, peeled, seeded, and chopped (save the juice)
1/2 pound strawberries, stems removed
1/2 pound red seedless watermelon, about 1 cup
1 each green and red bell pepper, seeded and chopped
1 cucumber, peeled, seeded and chopped
1/2 small red onion, chopped
1 clove garlic
1 small jalapeno, seeded
1/4 cup olive oil
1/4 cup sherry vinegar
4 teaspoons salt or to taste
For garnish:
1/2 cup red onion, finely diced
1/2 cup cucumber, peeled, seeded and finely diced
1/2 cup red or green bell pepper, finely diced
1/2 cup finely diced strawberries
1/2 cup finely diced watermelon
1 jalapeno, seeded and finely diced
Cooking Directions
Make the soup: In a food processor or a blender, combine tomatoes, strawberries, watermelon, peppers, cucumber, onion, garlic, and jalapeno and blend as smoothly as possible. This may be done in several batches. After processing, pass the mixture through a strainer into a large bowl. Make sure to press firmly, pressing all of the liquid from the pulp. Once the mixture has been strained, add the olive oil, vinegar, any remaining tomato juice, and salt to taste. Add the garnishes to the gazpacho, cover, and refrigerate for several hours or until well chilled.
Serve cold in chilled glasses or bowls.
Chef's Note: A pound of chopped poached shrimp or jumbo lump crabmeat may be added as a garnish to this soup if desired.
This recipe was styled by chef Karen Pickus for Good Morning America.
Recipe courtesy Emeril Lagasse, copyright MSLO, Inc., all rights reserved
Recipe Summary
Main Ingredients: tomatoes, strawberries, watermelon, red pepper, onion, garlic
Course: Dinner, Lunch, Soup