Jeff Mauro's Greek Taco
Take a Bite Out of This Savory Dish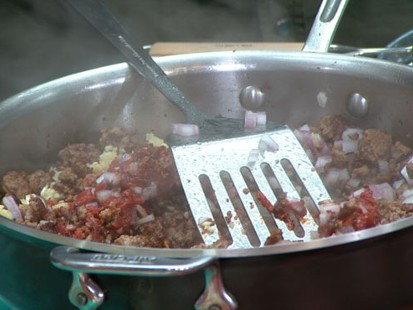 "The Sandwich King" Jeff Mauro makes Greek tacos and Jamon Jibarito.
From the kitchen of Jeff Mauro
|
This recently appointed "Food Network Star" shares his one of his favorite recipes for Greek tacos. Give this tasty and unique dish a try today.
Ingredients
Lamb:
1 tablespoon olive oil
2 pounds ground lamb
Salt and freshly ground black pepper
1/2 red onion, minced
1 teaspoon dried oregano
4 cloves garlic, minced
1 tablespoon tomato paste
2 tablespoons dry red wine
Feta Mint Tzatziki:
1 English cucumber
Salt
1 cup whole-milk Greek yogurt
1/2 cup crumbled feta cheese
1 clove garlic, minced or pressed
2 tablespoons minced fresh mint
Cucumber Tomato Relish:
1 tablespoon extra-virgin olive oil
1 tablespoon red wine vinegar
2 firm tomatoes, seeded and diced
1 English cucumber, seeded and diced
1/2 red onion, diced
Freshly ground black pepper
Sandwich Build:
4 non-pocket pitas, oiled and lightly griddled on each side
Cooking Directions
For the lamb: In a large skillet, heat the oil over medium-high heat. Add the lamb, sprinkle with salt and pepper and cook until the meat gets nice and golden brown, 10 to 12 minutes. With a slotted spoon, remove the lamb and reserve. Lower the heat to medium and sauté the onions in the lamb juices until soft, about 5 minutes. Add the oregano and garlic and cook until fragrant. Season. Add the tomato paste and cook until it caramelizes. Deglaze with the red wine and scrape any bits up that have adhered to the pan. Add the lamb back in, stir and set aside.
For the tzatziki: Grate the cucumber on the large holes of a box grater and place in a fine-meshed strainer or cheese cloth fitted over a bowl. Salt the cucumber and let sit 10 minutes. Then squeeze out any excess moisture. Add the strained cucumber into a bowl with the yogurt, feta, garlic and mint. Adjust the seasoning if necessary.
For the cucumber tomato relish: Toss the olive oil, vinegar, tomatoes, cucumbers and onions in a bowl and adjust the seasoning if necessary. Cover and let sit at least 1 hour to marry the flavors.
For the sandwich build: Schmear the tzatziki on the pitas, then place on the lamb and top with cucumber tomato relish.
This recipe was styled by chef Karen Pickus for Good Morning America.
Recipe courtesy Jeff Mauro.
Other Recipes That You Might Like