Jeff Mauro's Jamon Jibarito
The Master of Sandwiches Shares on of His Favorites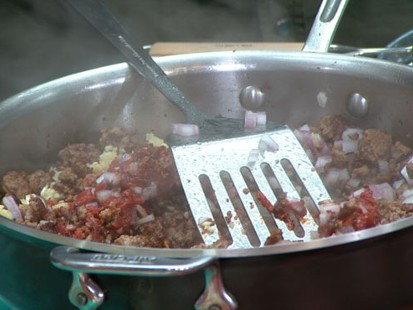 "The Sandwich King" Jeff Mauro makes Greek tacos and Jamon Jibarito.
From the kitchen of Jeff Mauro
|
Jeff Mauro is known for his love of sandwiches. Here he shares a recipe for a new one that includes plantains, beef and cheese. One word comes to mind, yum.
Ingredients
For the garlic mayo:
1 cup mayonnaise
1/2 teaspoon chili powder
1/2 teaspoon ground cumin
1 clove garlic, minced or run through a press
Salt and freshly ground black pepper
For the sandwich:
4 cups vegetable oil, for frying
2 green plantains, cut in half and then halved lengthwise
Salt and freshly ground black pepper
Granulated garlic, for seasoning
4 slices American cheese
1 pound good-quality boiled ham, thinly sliced
1 beefsteak tomato, thinly sliced
4 vibrant leaves iceberg lettuce
Garlic Mayo, recipe follows
Cooking Directions
For the mayonnaise:
In a bowl, mix together the mayo, chili powder, cumin, garlic and a little salt and pepper to taste.
For the sandwich:
Heat the oil in a Dutch oven to 375 degrees F. Fry 4 pieces of plantains until they float to the surface, about 2 minutes. Drain on a paper towel and repeat with the remaining 4 pieces. Using 2 wooden cutting boards or a heavy pan, flatten each piece of plantain. Refry each piece of flattened plantain, in batches, until golden, about 4 minutes. Season with salt and pepper and a little granulated garlic. Set aside on a paper towel.
For the sandwich build: On the bottom of 4 fried plantains (or tostones), place a slice of American cheese, a quarter of the ham, a quarter of the tomatoes and 1 lettuce leaf. Spread the Garlic Mayo on the top tostones and close. Cut in half on the bias. Pick up gently but bite aggressively.
This recipe was styled by chef Karen Pickus for Good Morning America.
Recipe courtesy Jeff Mauro.
Other Recipes That You Might Like