The Deen brothers' Sausage Potato Salad
A New Spin on a Classic Tailgating Sidedish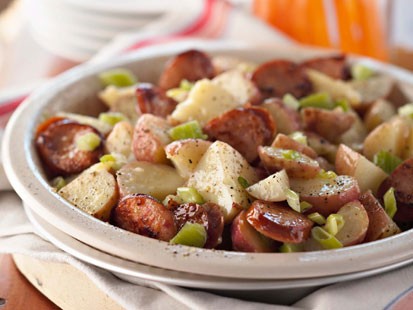 From the kitchen of Deen brothers
Make your Super Bowl showdown party the best on the block with tailgating recipes from the Deen Brothers. Jamie and Bobby Deen give you meal and snack ideas that will help make your sports gathering great.
Ingredients
Salad
1 pound red potatoes
2 teaspoons extra virgin olive oil
8 ounces kielbasa, sliced into ¾ inch thick rounds
1 stalk celery (1/2 cup), finely chopped
2 green onions (1/2 cup), thinly sliced
Dressing
1 1/2 tablespoons red wine vinegar
1 tablespoon Dijon mustard
1 clove garlic, minced
1/4 teaspoon salt
1/4 teaspoon finely ground black pepper
3 tablespoons extra virgin olive oil
Cooking Directions
1. Bring a large pot of water to a boil. Add the potatoes; boil about 25 minutes or until tender. Drain and let cool. Cut potatoes into quarters and place in a large bowl.
2. In a large skillet, heat the 2 teaspoons oil over medium-high heat. Brown the kielbasa. Transfer to a paper towel-lined plate to drain. Add kielbasa to the bowl with the potatoes.
3. For the dressing, in a small bowl, whisk together the vinegar, mustard, garlic, salt and pepper. Slowly whisk in the 3 tablespoons oil. Add the dressing, celery and green onions to the potato mixture and toss to combine. Serve warm or at room temperature.
Makes 4 to 6 servings
Courtesy of The Deen Brothers' Cookbook "Y'all Come Eat"
Recipe Summary
Main Ingredients: potatoes, kielbasa
Course: Appetizer/Starter, Lunch, Salad, Side Dish