Velveeta Easy Cheesy Fajita Dip
Quick and Easy Comfort Food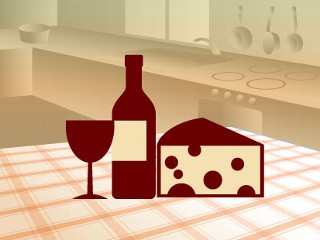 From the kitchen of Velveeta
|
Velveeta, the family-friendly cheese that comes in a familiar yellow box, can be used for a surprising variety of recipes from macaroni and cheese, to salsa dip.
In celebration of Velveeta's 75th anniversary, America's favorite cheesy recipes were prepared on Good Morning America.
Ingredients
Velveeta pasteurized prepared cheese product, cut up
1 pkg. Louis Rich Oven Roasted Chicken Breast Cuts (6 oz.)
1/4 cup green pepper, chopped
1/4 cup red pepper, chopped
1 small onion, chopped
1/2 cup Sour Cream (Breakstone's or Knudsen)
Cooking Directions
Microwave all ingredients except sour cream in microwavable bowl on high 6 to 8 minutes or until Velveeta is melted, stirring every 3 minutes. Stir in sour cream. Serve with tortilla chips or cut-up vegetables.
Great Variations: Substitute 2 cups chopped cooked fresh chicken for the chicken breast cuts. or Substitute 1/2 lb. drained browned ground beef for the chicken breast cuts.
Special Extra: Prepare as directed, using Velveeta Mexican Pasteurized Prepared Cheese Product with Jalapeño Peppers.
Courtesy of Kraft Foods
Other Recipes That You Might Like