Emeril's Big Chocolate-Chip Cookies
A Gooey Dessert That's Sure to Fill Your Tummy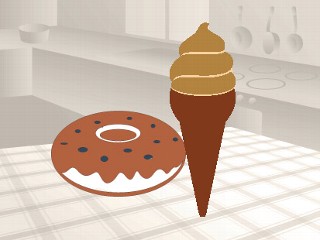 From the kitchen of Emeril Lagasse
Here's a decadent dessert recipe from Emeril Lagasse that is sure to kick any meal up a notch!
Ingredients
2 1/4 cups flour
1 teaspoon baking powder
1/2 teaspoon baking soda
1/2 teaspoon salt
1 cup unsalted butter (two sticks), softened
3/4 cups granulated sugar
3/4 cup light brown sugar
1 teaspoon vanilla extract
1 large egg, cracked into a small cup or saucer
1/2 cup semisweet chocolate chips
1/2 cup milk chocolate chips
1/2 cup white chocolate chips
1 cup walnut pieces, chopped and toasted (optional)
Cooking Directions
Cookies
Preheat the oven to 350 degrees Fahrenheit.
Sift together the flour, baking powder, baking soda, and salt into a medium bowl and set aside.
Place the butter, granulated sugar, and light brown sugar in the bowl of an electric mixer and cream the ingredients on high speed. Scrape down the sides of the bowl with a rubber spatula.
Add the vanilla and egg and mix on medium speed. Add the flour mixture and mix on low speed just until the batter is stiff — don't overdo it!
Turn off the mixer and, using a large spoon or plastic spatula, fold in the chocolate chips and the walnuts, if desired.
Using a tablespoon, scoop about 2 spoonfuls of the dough into a ball and place on a baking sheet. Repeat with remaining dough, keeping the scoops about 2 inches apart. Using your fingers or the back of the spoon, press down on each ball of dough to slightly flatten. You should get about 9 cookies on each sheet. Bake until golden brown, about 20 minutes. (Depending on the size of your oven, you may need to do this in batches.)
Using oven mitts or pot holders, remove the cookies from the oven and transfer with a plastic turner to wire racks to cool. Repeat with remaining sheets if necessary.
Toasted Nuts (optional)
Make sure the oven rack is in the center position and preheat the oven to 350 degrees Fahrenheit.
Spread the desired amount of nuts on a baking sheet and make sure they are spread evenly in one single layer. Use whole nuts or halves and chop after toasting if needed. Bake in the oven until just golden and very fragrant, 8 to 10 minutes for most nuts.
Using oven mitts or pot holders, carefully remove the baking sheet from the oven and transfer to a wire rack to cool.
Use as desired or store in an airtight container, preferably in a cool location. Nuts will keep up to 2 weeks after toasting.
Recipe Summary
Main Ingredients: flour, chocolate chips, butter, eggs
Course: Dessert, Cookies