Cindy's Chocoalte-Syrup Cake
A Blue Ribbon Winner That Will Take Top Prize at Your Table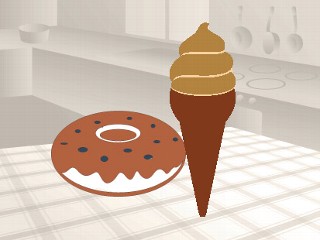 From the kitchen of Cindy Carroll
When the Good Morning America team launched its "5 States, 5 Days" tour in North Carolina, Cindy Carroll received some surprise dinner guests.
Carroll had written an e-mail to ABCNEWS.com in response to our "Tell Charlie and Diane Where to Go" query, suggesting that the anchors stop by her home in Cary, N.C. for a homestyle dinner. She promised "the best southern meal," they had ever had — and by all accounts, Carroll certainly delivered.
Carroll, who learned how to cook when she was very young, won a blue ribbon for this recipe, chocolate-syrup cake, at the North Carolina State Fair. She was happy to share it.
Ingredients
Cake
1 stick unsalted butter, room temperature
1 cup sugar
4 eggs
1 cup self-rising flour
1 can Hershey's Chocolate Syrup (1-pound size)
1 teaspoon vanilla extract
Frosting:
1 stick unsalted butter
1 cup sugar
1/3 cup evaporated milk
1/2 cup semi-sweet chocolate chips
Cooking Directions
Preheat oven to 350 degrees
Cream butter and sugar. Add eggs, one at a time.
Stir in flour. Add chocolate syrup and vanilla. Blend well.
Pour into 13 by 9 -inch greased and floured baking pan. Bake for 30 minutes. DO NOT OVERBAKE. Pour frosting over hot cake in the pan.
Frosting
Put butter, sugar and milk in a saucepan.
Bring to the boil and cook for one full minute to thoroughly dissolve the sugar.
Remove from the heat. Add chocolate chips and beat till chips are completely melted and frosting is thick and smooth. Pour immediately over hot cake.
Recipe Summary
Main Ingredients: chocolate syrup, eggs, flour, butter
Course: Dessert