Meringue Ice Cream Cake
Diane Sawyer's Favorite Recipes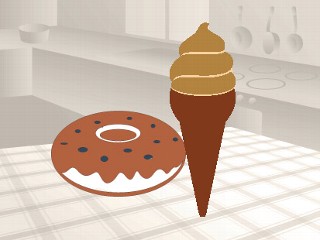 From the kitchen of Diane Sawyer
|
ABCNEWS' Diane Sawyer made one of her favorite desserts, Meringue Ice Cream Cake with Strawberries for Good Morning America's "We're Cooking Now" series.
Ingredients
7 egg whites
1 teaspoon cream of tartar
2 1/2 cups sugar
1 teaspoon vanilla extract
4 pints strawberries, hulled, whole
2 cups heavy cream
1 quart vanilla ice cream
Cooking Directions
Do not preheat oven. Butter two 10-inch springform pans. In large bowl, with electric mixer, beat egg whites with cream of tartar, until they hold a soft peak. Add sugar a little at a time, beating, and beat meringue until it is very glossy and hold a semi-hard peak. Fold in vanilla. Divide meringue between pans, smoothing tops.
Put pans in oven and set to 275 degrees. Bake meringue layers 45 minutes. Remove from oven. Cool meringue layers in pans on racks. Set aside. If made ahead, cover with plastic wrap in pans.
In a bowl, beat cream until it holds stiff peaks.
To assemble cake, use a large round platter. Loosen meringue layers from pan bottoms and put one layer on a platter. Working quickly spread the ice cream onto the meringue on plate. Then top with half the strawberries, and the last meringue layer. Then spread whipped cream on the top and sides.
Finish off with strawberries on the top of the cake. Everyone at your table can dig right in with their own spoon.
Other Recipes That You Might Like