Shrimp Ceviche
Noché Chef Michael Lomonaco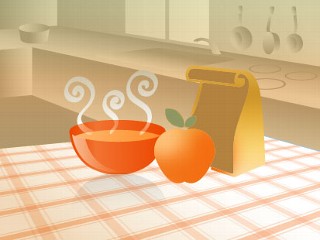 From the kitchen of Michael Lomonaco
If you have a taste for Latin food, try this tasty specialty from the chef at Noché, a new restaurant serving suckling pig and other sizzling dishes in the middle of Times Square.
The new restaurant is home to empanadas and tamales, and a new life for some former World Trade Center workers, including owner David Emil and chef director, Michael Lomonaco of the legendary Windows on the World restaurant.
Try their Shrimp Ceviche with Papaya in your kitchen at home.
Ingredients
2 pounds small shrimp, peeled, steamed for two minutes and cooled
1 red onion
1 red bell pepper
1 small bunch cilantro
1 cup passion fruit juice
1 cup orange juice
2 limes
1 large papaya
salt and pepper
Cooking Directions
Place lightly cooked shrimp in a large bowl. Set aside.
Peel and thinly slice the red onion, cutting into a julienne. Cut the red pepper in a similar fashion and set aside. Pluck the cilantro leaves and set aside.
Combine passion fruit juice and orange juice in a mixing bowl. Squeeze the lime juice and combine with the shrimp. Allow to marinate for 10 minutes.
Cut the papaya in half, cutting through the center, lengthwise. Remove and discard the seeds and place the papaya on a platter.
Pour half the passion fruit-orange juice over the shrimp and allow to marinate five minutes longer. Add half of the red onion, red pepper and cilantro leaves to the shrimp. Season with salt and pepper.
Place the shrimp into the papaya and top with the remaining onion, pepper and cilantro. Serve immediately.
Recipe Summary
Main Ingredients: shrimp, cilantro, lime
Course: Appetizer/Starter, Lunch, Salad