Gourmet's Lobster and Mango Cocktail
50 States Tour: Recipes From Maine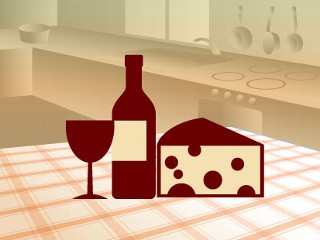 From the kitchen of Gourmet Magazine
Sixty-eight percent of the nation's lobster supply is caught off the coast of Maine, and though much of it ends up at restaurants, it is not too difficult to make delicious lobster at home.
Here are a few tips on cooking lobster from Good Morning America's food editor, Sara Moulton, who worked with chefs from Cook's Lobster House on Bailey Island, Maine.
Choosing a Lobster: The sex of a lobster only matters if you happen to like lobster roe, a delicacy that is only found in the female lobster. You can determine the sex of a live lobster by locating the small feelers behind the rear legs, right under the tail. On male lobsters, the feelers are hard, while on female lobsters, they are soft.
Storing a Live Lobster: Live lobsters are very perishable, and require a controlled saltwater environment to remain alive. They do not generally live much beyond a day out of water, but since it is hard to determine ideal salinity ? and the lobsters die if there is too much or too little salt in the water ? Moulton recommends keeping them alive at home by refrigerating them. Cover lobsters with moist seaweed or a damp cloth to keep them moist. Never put them in plastic bags; they need to breathe.
Boiling Lobsters: The length of time that they are boiled depends on the size of the lobster.
? 1 pound , 8 minutes
? 1 1/4 pound, 9 to 10 minutes
? 1 1/2 pound, 11 to 12 minutes
? 1 3/4 pound, 12 to 13 minutes
? 2 pounds, 15 minutes
? 2 1/2 pounds, 20 minutes
In addition to boiling lobsters and serving them with melted butter, try this Lobster and Mango Cocktail.
Ingredients
1/3 cup mayonnaise
1/3 cup plain yogurt
2 tablespoons cognac
1 tablespoon ketchup
1 tablespoon fresh lemon juice, or to taste
4 live lobsters (1 1/2 pounds each)
3 firm ripe mangoes
1 cup celery, finely diced
4 whole Belgian endives (plus 12 leaves for garnish)
3 tablespoons fresh chives, minced (plus 24 whole chives for garnish)
Cooking Directions
In a small bowl whisk together the mayonnaise, the yogurt, the cognac, the ketchup, the lemon juice and add salt and pepper to taste. Chill the sauce, covered.
Plunge the lobsters into a large kettle of boiling salted water and boil them, covered, for 10 minutes.
Transfer the lobsters with tongs to a bowl and let them cool until they can be handled. Crack the shells, remove the meat, and cut it into 3/4-inch pieces. Transfer the lobster meat to a large bowl and chill it, covered. The lobster cocktail may be prepared up to this point one day in advance.
Halve the mangoes by cutting just to the sides of each pit and, using a 3/4-inch melon-ball cutter, scoop the flesh from the mango halves. (There should be about 2 cups.)
To the lobster meat, add the mango balls, the celery, the whole endives, trimmed and sliced thin crosswise, the minced chives and the sauce and toss the mixture until it is combined.
Divide the lobster mixture among 12 chilled small glasses and garnish each serving with 1 of the endive leaves and 2 of the whole chives.
For more lobster recipes, Moulton recommends Jasper White's Lobster at Home (Scribner, 1998) as a great source.
Recipe Summary
Main Ingredients: yogurt, mangoes, celery, endives
Course: Appetizer/Starter, Dip, Party Platter, Salad, Snack