Emeril's Crabmeat Parfait
A Father's Day Treat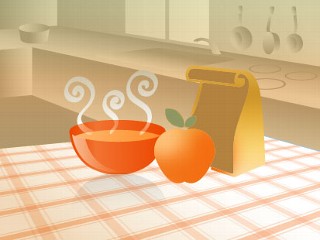 From the kitchen of Emeril Lagasse
|
Emeril Lagasse served up another wonderful way to treat dads to something spectacular this Father's Day. Make Lagasse's Southwest Crabmeat Parfait.
Ingredients
Parfait
1 1/2 cups tomatoes, finely chopped and seeded
1 tablespoon olive oil
1/4 teaspoon salt
Crabmeat Salad (recipe below )
Kicked Up Guacamole (recipe below)
Fried Tortilla Strips, garnish
Tequila shots
Crabmeat Salad
1 pound lump crabmeat, picked over for shells and cartilage
1/3 cup mayonnaise
1/2 cup red onions, finely chopped
2 tablespoons fresh cilantro, chopped
1 tablespoon fresh parsley, chopped
4 teaspoons fresh lime juice
1 teaspoon garlic, minced
1 teaspoon salt
1 teaspoon ground cumin
1/4 teaspoon cayenne
Guacamole
1 pound ripe avocados, peeled, seeded and chopped
1 tablespoon fresh lime juice
2 teaspoons tequila
3 tablespoons red onions, chopped
1 tablespoon cilantro leaves, minced
1 1/2 teaspoons sour cream
2 jalapenos, seeded and minced
1 1/2 teaspoons ground cumin
1/2 teaspoon garlic, minced
1/2 teaspoon salt
1/8 teaspoon cayenne
Cooking Directions
In a large bowl, combine all the ingredients for guacamole, mashing slightly to combine.Refrigerate until ready to assemble the parfaits.
For crabmeat salad, combine the mayonnaise, onions, cilantro, parsley, lime juice, garlic, cumin, salt, and cayenne. Gently fold in the crabmeat, being careful not to break up the lumps.
For Parfait, in a bowl, toss the tomatoes with the oil and salt.
To assemble the parfaits, spoon about 2 tablespoons of the guacamole into each of 4 parfait glasses. Top with crabmeat salad, tomatoes, and another layer or guacamole. Continue layering to use all the ingredients.
Garnish each glass with the fried tortilla strips, and serve with a shot of tequila. Yield: Makes 4 servings
Other Recipes That You Might Like