Jello Aquarium
A Sugary Dessert From Under the Sea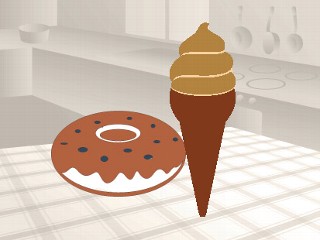 From the kitchen of Clare Crespo
|
Remember your mother always telling you not to play with your food? Apparently Clare Crespo did not heed that advice when she wrote "The Secret Life of Food," a book packed with wacky, edible creations.
Crespo teaches cooking classes to kids at the New School of Cooking in Los Angeles. She also writes a cooking column and is developing an animated children's cooking series for TV.
She appeared on Good Morning America to show off recipes that might make your friends and family do a double take.
Inspired by the introduction of berry blue flavor Jell-O, Crespo came up with her Jell-O Aquarium recipe. It can be a centerpiece or a dessert for kids, when made in regular sized bowls.
Ingredients
1 1/2 gallon glass goldfish bowl
2 boxes Berry Blue Jell-O gelatin (6 ounces)
1 can fruit cocktail (11 ounces)
2 gummy fish (or plastic fish)
1 plastic aquarium plant (optional)
Cooking Directions
Make the Jell-O gelatin according to directions on the box. Pour into goldfish bowl.
Drain the fruit cocktail and slowly pour it into the goldfish bowl. It will sink to the bottom to act as the "gravel."
Place Jell-O gelatin in the refrigerator to thicken, for about an hour. Don't let it set completely.
Remove from the refrigerator, and place the gummy (or plastic) fish in the Jell-O gelatin, using a chopstick, knife, or the back of a spoon to push the fish toward the bottom of the goldfish bowl.
Return the Jell-O gelatin to the refrigerator to set completely.
When the Jell-O gelatin has set and is ready to serve, use a spoon to scoop it and the fish out. If you are using plastic fish, be sure to set them aside.
Note: To make "water" in the aquarium lighter replace the second box of Berry Blue Jell-O with four 7-gram packets of unflavored gelatin.
Other Recipes That You Might Like