Emeril's Chocolate Meringue Pie
Dive into This Chocolatey Treat!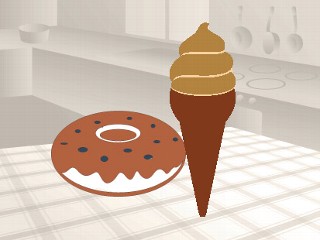 From the kitchen of Emeril Lagasse
Emeril has a creamy dessert that is perfect for any date night. Take a cue from this top chef by whipping up this chocolate pie, and BAM- you have a scrumptious sweet for your sweetie.
Ingredients
Pie Crust
1 1/4 cups all-purpose flour
6 tablespoons unsalted butter, cold, cut into small pieces
2 tablespoons vegetable oil, cold
1/4 teaspoon salt
2 tablespoons ice water, or more as needed (roll out ingredients into crust or use a store-bought one)
Chocolate Filling
4 ounces bittersweet chocolate, chopped
4 ounces unsweetened chocolate, chopped
4 large egg yolks
1 cup sugar
6 tablespoons cornstarch
1/2 teaspoon salt
3 1/2 cups milk
2 tablespoons unsalted butter, cut into bits and softened
1 teaspoon vanilla
Meringue Topping
4 egg whites
1/4 teaspoon cream of tartar
1/8 teaspoon salt
1/2 cup sugar
bittersweet chocolate, finely grated, as garnish
Cooking Directions
Crust
In a medium bowl using a pastry blender or fork, mix together the flour, butter, shortening, and salt until the mixture resembles coarse crumbs.
Add 2 tablespoons ice water and mix just until the water is incorporated. Add more water as needed to make a smooth dough. Form the dough into a disk, wrap tightly in plastic wrap, and let rest in the refrigerator for 1 hour.
Remove from the refrigerator and place on a lightly floured surface. Roll the pastry to a large round, about 12-inches in diameter.
Transfer to a deep dish 9-inch pie pan, trim to within 1/2-inch of the pan, and crimp decoratively. Prick with a fork, cover, and refrigerate for 20 to 30 minutes.
Preheat the oven to 400° F. Line the shell with parchment paper and fill with pie weights. Bake for 10 minutes.
Remove the paper and bake until golden brown, about 10 to 15 minutes. Remove from the oven and cool on a wire rack.
Note: Can also use a store-bought pie crust.
Filling
In the top of a double-boiler, or in a metal bowl set over a pot of barely simmering water, melt the bittersweet and unsweetened chocolates, stirring, until smooth. Remove from the heat.
In a bowl, beat the egg yolks.
In a medium, heavy saucepan, whisk together the sugar, cornstarch, and salt. Add the milk in a stream, whisking constantly. Bring the mixture to a boil, whisking constantly to keep lumps from forming. Remove from the heat.
Add 1 cup of the hot milk mixture to the yolks and whisk until smooth.
Add the beaten yolk mixture to the saucepan with the hot milk and bring to a simmer over medium-low heat. Simmer, whisking constantly, until thick and smooth, about 3 minutes.
Remove from the heat and whisk in the melted chocolate, butter, and vanilla. Cover with plastic wrap, pressing down on the surface to prevent a skin from forming, and cool completely.
Pour the filling into the crust and refrigerate until cold, at least 4 hours or overnight.
Meringue Topping
In a large non-reactive bowl using an electric mixer, beat the egg whites with the cream of tartar and salt until soft peaks start to form. Slowly add the sugar while beating and continue to beat until glossy and stiff peaks form. (Be careful not to overbeat, as will be difficult to spread.)
Preheat the oven to 325 degrees F. Spread the meringue over the chocolate pie, smoothing out to the pastry edges (so the meringue won't draw up during baking). With a dull knife, make decorative peaks in the meringue. Bake until the meringue is golden, about 14 to 15 minutes.
Remove from the oven and let cool for at least 2 hours in the refrigerator. Sprinkle with grated chocolate, and serve. Makes one 9-inch pie
Recipe courtesy of Emeril Lagasse © 2002.
Recipe Summary
Main Ingredients: chocolate, eggs, butter, flour, milk, oil
Course: Dessert