Calf Fries With Cracked-Pepper Gravy
Cowboy Recipes From Texas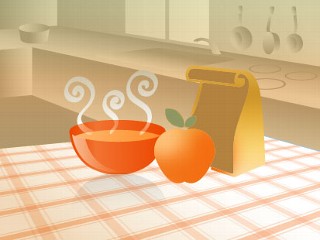 From the kitchen of Grady Spears
Grady Spears shared two more special recipes on Good Morning America from Texas. Try his Calf Fries With Cracked-Pepper Gravy.
Ingredients
Calf Fries
2 eggs
1/2 cup buttermilk
1/2 cup Shiner Bock beer (or any good bock beer)
2 cups peanut oil
36 calf fries, cleaned of membranes (ask your butcher how to clean)
flour spice, a few full cups, enough for dredging calf fries
2 cups cracked-pepper gravy
Gravy
1/4 cup unsalted butter
5 tablespoons flour
2 1/2 cups milk
1-1/2 teaspoons kosher salt
4 teaspoons cracked pepper
Cooking Directions
Calf Fries
Prepare the batter by mixing eggs with a whisk in a large bowl. Add the buttermilk and beer. Whisk to blend. Set aside. In a deep, heavy skillet, heat the oil to 350. While the oil is heating, prepare the calf fries by dredging them in the flour spice, taking care to evenly coat. Shake off any excess flour. Dip the calf fries into the batter, and then again in the flour spice, evenly coating the batter so it is dry on the outside.
When the oil temperature reaches 350 (when a drop of batter sizzles when dropped it in), gently slide 12 calf fries into the hot oil. Cook about 3 minutes. Turn them, taking care not to break the coating, and cook them 3 more minutes or until the batter is nicely browned. Drain the cooked calf fries on paper towels. Repeat for the other two batches. Hold the cooked calf fries in a 225 oven until all 3 batches are done. Serve with cracked-pepper gravy (ingredients & recipe below).
Cracked-Pepper Gravy
Melt butter in a heavy saucepan. When the foam goes down, whisk in the flour. Continually whisk until the flour cooks, becoming a fragrant light brown. Slowly add the milk, continuing to whisk to keep lumps from forming. Season with salt and pepper.
Simmer gravy for 10 minutes to cook and reduce. Serve hot.
Recipes courtesy of Grady Spears "A Cowboy in the Kitchen," © 1998
Recipe Summary
Main Ingredients: calf fries, buttermilk, beer
Course: Appetizer/Starter, Lunch, Snack