Marbled Cream Cheese and Kahlua Brownies
An Adult Dessert That Can Be Kid Friendly in a Flash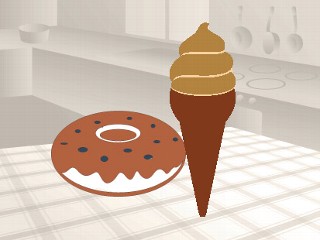 From the kitchen of Anne Byrn
Cream cheese and Kahlua give these brownies an added kick.
For a child-friendly version, use vanilla instead of Kahlua in the filling, and use water instead of Kahlua in the brownies.
Ingredients
Cheesecake Filling
8 ounces cream cheese (1 package), at room temperature
5 Tbsp. butter, at room temperature
1/4 cup sugar
1 large egg
1 Tbsp. Kahlua (or other coffee liqueur)
Brownies
Vegetable oil spray, for misting the pan
1 package brownie mix (19.8 ounces)
1/3 cup vegetable oil
1/4 cup Kahlua or other coffee liqueur
2 large eggs
1/2 cup miniature semisweet chocolate chips (optional)
Cooking Directions
Prepare the filling. Place the cream cheese, butter, sugar, egg and Kahlua in a large, mixing bowl and blend with an electric mixer on low speed, or with a wooden spoon, until the mixture is smooth and well combined. Set the bowl aside.
Place a rack in the center of the oven and preheat the oven to 350F. Lightly mist the bottom of a 13- by 9-inch pan with vegetable oil spray. Set the pan aside.
Place the brownie mix, oil, Kahlua, and eggs in a large mixing bowl. Stir with a wooden spoon until all the ingredients are incorporated and the batter lightens in texture, 50 strokes.
Pour the batter into the prepared pan and spread it out evenly with a rubber spatula.
Spread the cream cheese filling over the top of the batter, and using a dinner knife, swirl it into the batter to create a marbled effect.
Scatter the chocolate chips evenly over the top if desired. Place the pan in the oven.
Bake the brownies until they are lightly browned and the outer 2 inches form a crust, 27 to 32 inches. Remove the pan from the oven and place it on a wire rack to cool for 30 minutes. Cut the brownies into 24 squares.
*Store these brownies, covered with plastic wrap or aluminum foil, at room temperature for up to 3 days or in the refrigerator for up to 1 week. Or freeze them, wrapped in foil, for up to 6 months. Thaw the brownies overnight on the counter before serving.
Used by permission. From "Chocolate from the Cake Mix Doctor," by Anne Byrn, copyright 2001.
Recipe Summary
Main Ingredients: chocolate, eggs, cream cheese, kahlua, sugar, butter
Course: Cookies, Dessert