Sparkling JELL-O Gulps
Rocco DiSpirito's Effervescent Indulgence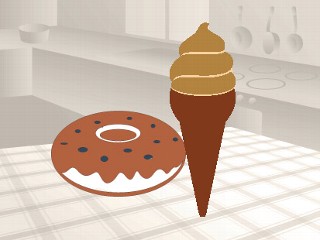 From the kitchen of Rocco DiSpirito
Rocco's Sparkling JELL-O Gulps are easy to make and sure to impress your New Year's Eve party guests.
Ingredients
1 package cherry JELL-O
1/2 teaspoon pinches baking soda
1 pint rainbow sherbet
1 part sparkling cider
1 part ginger ale
Cherry pop rocks, for the rim of the glass
Cooking Directions
Make the JELL-O according to package instructions, adding baking soda, and pour into a 9-inch square baking dish to cool.
When firm, cut the JELL-O into 3/4-inch cubes and put in the bottom of a tall festive glass.
Add a small scoop of sherbet to each one.
Top each one off with sparkling cider and ginger ale, then sprinkle cherry pop rocks on the rim of the glass and serve immediately.
Recipe courtesy of Rocco DiSpirito © 2001
Recipe Summary
Main Ingredients: jell-o, sparkling cider, sherbert
Course: Dessert, Drinks, Party Platter
More Info: Kid Friendly