Shrimp on a Stick
Rocco DiSpirito Cooks Simple and Delicious Fare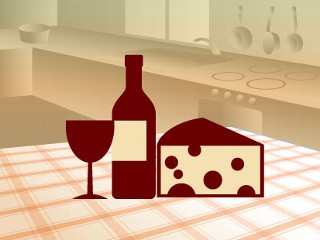 From the kitchen of Rocco DiSpirito
|
This dish from Rocco DiSpirito puts a unique spin on the old shrimp cocktail.
Ingredients
4 or 6-inch decorative skewers
16 large shrimp, shelled and de-veined
4 ripe red beefsteak tomatoes
1 1/2 cup tomato juice
juice of 2 lemons
4 tablespoons prepared horseradish
Pinch cayenne pepper
Pinch freshly ground white pepper
Tabasco, to taste
Dash Worcestershire
Salt, directions reference amounts
Cooking Directions
Bring a large pot of water to a boil and add 2 tablespoons of salt. Set up an ice bath. Score the tomatoes on the bottom and remove the cores.
Lower the tomatoes into the boiling water for 10-15 seconds, then remove with a slotted skewer and cool immediately in the ice bath. Drain and rub off the skins (save skins). Cut the tomatoes into quarters and run a sharp knife in between the seeds and the skin to remove the "guts." (If desired, save the tomato pulp and drain them to make either tomato water or to use in soups or stocks.)
In a medium bowl, combine the tomato juice, lemon juice, horseradish, cayenne, and white pepper and season with the Tabasco and Worcestershire. The mixture should taste like cocktail sauce. Add the tomato skins or "petals" to the bowl and stir gently to combine. Cover tightly with plastic wrap and refrigerate overnight, or up to two days.
Put the shrimp in a large bowl and bring a 4-quart pot of water to boil with 2-tablespoons of salt. When the water boils, pour it over the shrimp, cover with plastic wrap, and let sit until cool. Drain and blot the shrimp dry.
Remove the tomato skins or "petals" from marinade and wrap one around each shrimp. Use a decorative skewer to hold the petal in place. Serve chilled.
Recipe courtesy of Rocco DiSpirito © 2001
Other Recipes That You Might Like