Thai Shrimp and Papaya Salad
Heart Healthy Recipes From Dr. Andrew Weil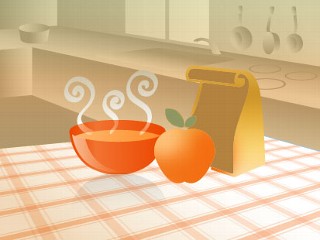 From the kitchen of Dr. Andrew Weil
|
Dr. Andrew Weil, the so-called father of alternative medicine, has just released a new cookbook with co-author Rosie Daley, Oprah Winfrey's former chef. They shared some of their best recipes with Good Morning America.
Ingredients
Shrimp
12 large raw, cleaned, and deveined shrimp
1 tablespoon toasted-sesame oil
1/4 teaspoon prepared chili pasted (optional)
Salad
6 cup baby mixed field greens, washed and dried
1/4 teaspoon salt
1/4 cup freshly squeezed lemon juice
1/4 olive oil
Papaya Salsa
1/2 cup cilantro (1 bunch)
1 cup papaya, cubed
1/4 cup red bell pepper, cubed
1/4 up red onion, diced
1 small jalapeno pepper, seeded and minced (optional)
2 tablespoons freshly squeezed lime juice
Cooking Directions
Preheat the broiler for 15 minutes. Meanwhile, put the shrimp in a medium bowl and add the sesame oil and chili paste. Toss with a spoon to coat the shrimp completely and evenly. Lay the seasoned shrimp on a baking tray and broil them for 1 minute on the middle rack. Turn them over and broil for 1 more minute or until they are cooked through. The shrimp should be pink when they are done.
Salad and Salsa Directions Toss the mixed greens with the salt, lemon juice, and oil, until all the leaves are thoroughly coated. Pinch the leaves off the cilantro stems. Put then in a small bowl with the remaining salsa ingredients and mix thoroughly with a spoon. Toss the shrimp into the salsa and stir until they are all coated. Put the mixed greens on a platter and the shrimp on top.
Other Recipes That You Might Like