Apricot Apple Streusel Pie
Maggie Zabinko, Apple Pie Contest Finalist 2001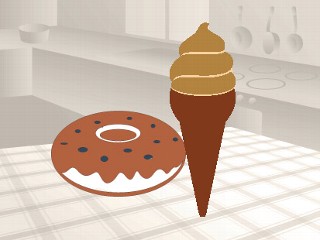 From the kitchen of Maggie Zabinko
|
This recipe gives traditional apple pie a bit of a twist of apricots and streusel. Read the directions before you start cooking: the recipe has several parts.
Ingredients
Crust
1 cup all-purpose flour
1 Tsp. salt
1/4 cup butter (not margarine)
1/4 cup Crisco shortening
1/4 cup cold water
Streusel
1 1/2 cups all-purpose flour
3/4 cups granulated sugar
3/4 cups butter (not margarine)
Filling
6 Cups thin slices of favorite type of apples (firm apples work better, i.e., granny smith or gala)
1/4 tsp. nutmeg
1/2 tsp. cinnamon
1/2 cup sugar
1/4 cup all-purpose flour
1 cup apricot preserves (I use my own homemade preserves)
1 cup of dried apricots, coarsely chopped (See "Before You Start" in Directions.)
Cooking Directions
Before You Start:
1. Preheat oven to 350 degrees
2. Soak 1 cup of dried apricots coarsely chopped with 1/4 cup apricot brandy (Set aside). Can soak several hours or overnight for a stronger brandy flavor.
3. Line and flute a 9-inch pie plate with the crust. Mix flour and salt together in a medium bowl.
2. Work butter and shortening with a fork or pastry blender until it reaches a coarse meal-like texture. 3. Pour in water and mix together to form a soft dough. Add more water as needed. Streusel:
1. In a medium bowl, mix flour and sugar together; add butter and work in with a fork or pastry blender to form pebble-sized chunks.
2. Can make a larger recipe if you prefer more streusel on top of the pie. Filling:
1. Slice apples, place in a large bowl. 2. Mix together dry ingredients and spices; toss together with the apples and 1 cup of the streusel topping.
3. Drain apricots and toss them into the mixture.
4. Pour 1/2 filling into the lined pie plate; dab 1/2 of the preserves over the layer; pour remaining filling on top and dab with remaining preserves and cover with the streusel to the ends of the crust.
5. Bake in preheated oven for 1 hour. Add more time if needed. Place a piece of foil over the top of the pie if it browns before it is ready to remove from the oven. Recipe courtesy of Maggie Zabinko, Emeril Lagasse's Apple Pie Contest 2001
Other Recipes That You Might Like