Emeril's New York Cheesecake
Emeril Lagasse's Cheesecake with Apple Compote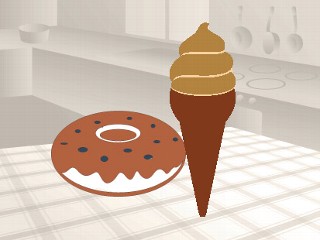 From the kitchen of Emeril Lagasse
Take a bite of the Big Apple — Emeril Lagasse serves up his Old-Fashioned New York Cheesecake with Apple Compote.
Ingredients
1 cup graham cracker crumbs
2 1/2 tablespoons unsalted butter
1 1/2 tablespoons sugar
2 1/2 pounds cream cheese, softened
1 1/2 cups sugar
grated zest of 1 lemon
grated zest of 1 orange
1/2 teaspoon vanilla extract
3 tablespoons all-purpose flour
5 eggs
2 egg yolks
1/2 cup sour cream
1 vanilla bean, seeds scraped from inside of pod and reserved
1 teaspoon bourbon
Apple Compote
6 Granny Smith apples, peeled, cored and thinly sliced
3 tablespoons lemon juice
1 cup sugar 1 cup apple juice (or apple cider)
1 vanilla bean, split and scraped
3/4 teaspoon cinnamon
pinch of ground cloves
Cooking Directions
Preheat oven to 375F. Butter the bottom of a 9-inch springform pan. In a mixing bowl, combine graham cracker crumbs, butter and sugar and mix well. Press onto bottom of springform pan and bake until golden, about 8 minutes. Set aside to cool. When completely cooled, butter the sides of the pan.
Increase oven temperature to 500F.
In a large mixing bowl with an electric mixer, combine cream cheese, sugar, zests and vanilla and beat until light and creamy. Add the flour, then the eggs and yolks one at a time, mixing well after each addition. Add the sour cream, vanilla bean seeds and bourbon and mix until smooth. Pour mixture into prepared pan and bake for 12 minutes. Reduce oven temperature to 200F and bake for 1 hour more. Transfer cake to a cooling rack and let cool completely. Refrigerate cake overnight before serving.
Compote
In a large bowl combine apples and the juice of 1 lemon and set aside.
In a large saute pan combine the sugar, 1/2 cup of the apple juice and the vanilla bean and bring to a boil over high heat. Cook, without stirring until mixture thickens and begins to caramelize. Add apples and any accumulated juices, remaining apple juice, cinnamon and cloves. Continue cooking over medium high heat, stirring occasionally, until apples are tender and translucent and the liquid is thickened, about 20 minutes. Remove the vanilla bean and transfer to a bowl to cool. Serve cold or room temperature, spooned over New York Style Cheesecake. Makes about 3 cups of compote.
Recipe courtesy of Emeril Lagasse © 2001.
Recipe Summary
Main Ingredients: cream cheese, graham cracker, vanilla bean
Course: Dessert