Emeril's Clam Chowder
Emeril Lagasse's Manhattan Clam Chowder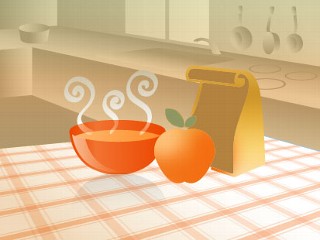 From the kitchen of Emeril Lagasse
Celebrate New York City with Emeril Lagasse's Manhattan Clam Chowder.
Ingredients
8 pounds quahog clams (or large cherrystone clams), scrubbed and rinsed, opened clams discarded
4 slices bacon, cut into 1/2-inch lengths
2 cups onion, finely chopped
1 cup celery, finely chopped
1/2 cup bell pepper, chopped
3/4 cup carrot, diced
1 1/2 tablespoons garlic, minced
3 bay leaves
1 1/2 teaspoons dried oregano
4 sprigs fresh thyme
1/2 teaspoon crushed red pepper
1 1/4 pounds potatoes, peeled and cut into 1/2-inch cubes (about 3 cups)
1 cup chicken stock
3 cups tomatoes, peeled, seeded and chopped (or 1 large 28-ounce can whole tomatoes), chopped and juices reserved
1/4 cup parsley, chopped
freshly ground black pepper, to taste
salt, to taste if necessary
Cooking Directions
In a large stockpot, bring 2 cups of water to a boil. Add clams, cover and cook for 5 minutes. Uncover, quickly stir clams well with a wooden spoon, and recover. Allow clams to cook 5 to 10 minutes longer (this will depend on the type and size of clams you are using), or until most of the clams are opened. Transfer clams to a large bowl or baking dish and strain broth through a fine-meshed sieve into a bowl. (You should have about 6 cups of clam broth. If not, add enough water to bring the volume up to 6 cups.) When clams are cool enough to handle, remove them from their shells and chop into 1/2-inch pieces. Set clams and broth aside.
In a large, heavy pot, add bacon and render until golden and crispy. Pour off all fat except 4 tablespoons. Add onions, celery, bell pepper and carrots and cook for 10 minutes, until vegetables are softened. Do not allow to color. Add garlic, bay leaves, oregano, thyme and crushed red pepper and cook an additional 2 minutes.
Increase heat to high and add potatoes, reserved clam broth, and chicken stock and bring to a boil, covered. Cook for 20 minutes, or until potatoes are tender and the broth has thickened somewhat. Add tomatoes and continue to cook for 10 to 15 minutes. Remove the pot from the heat and add reserved clams and parsley and season with pepper and (if necessary) salt. Allow chowder to sit for up to 1 hour to allow flavors to meld, then reheat slowly over low fire if necessary. Do not allow to boil.
Recipe courtesy of Emeril Lagasse © 2001
Recipe Summary
Main Ingredients: quahog clams, bacon, tomatoes
Course: Appetizer/Starter, Lunch, Soup