Basic Stuffing
Sara Moulton's Basic Stuffing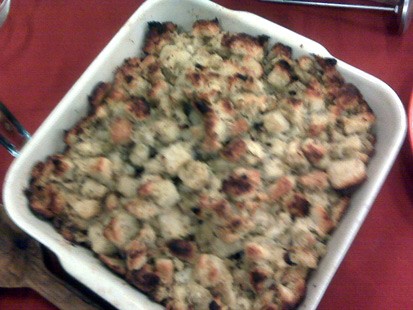 From the kitchen of Sara Moulton
|
Sara Moulton shares the easiest recipe for stuffing that you'll find. And it's among the tastiest.
Ingredients
2 cups onion, chopped
1 cup celery, chopped
6 tablespoons unsalted butter
1 teaspoon ground sage
1 teaspoon dried thyme
12 cups white bread (or whole wheat bread) (about 1 pound), cut into half inch cubes, toast the bread in your oven for 5-7 minutes at 400 degrees or until slightly golden.
1 teaspoon salt
1/2 teaspoon black pepper
1 1/2 cups chicken or turkey broth (homemade or bought)
Cooking Directions
Cook onion and celery in skillet on medium heat with butter until soft. Transfer to bowl and add all the remaining ingredients and toss well. Either stuff inside turkey cavity or cook in a shallow casserole at 350 degrees, covered for 1/2 an hour. Uncover, and cook for another ten minutes to get crispy.
Optional: Sara's Three Variations: Add 1/2 pound cook crumpled bacon, or Add1 pound sliced mushrooms that have been sautéed in 2 tablespoons butter. Add 1 cup chopped toasted walnuts and 2 golden delicious apples that have been peeled, chopped and sautéed in 2 tablespoons butter.
Recipe courtesy of Sara Moulton c. 2000
Other Recipes That You Might Like