White Bean Soup with Chard and Delicata Squash
Lock the Door, Lose the Weight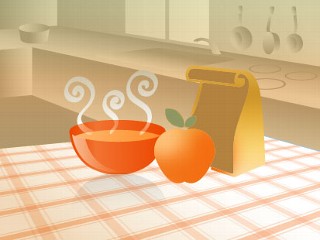 From the kitchen of Peter Repak
Peter Repak, the corporate chef for Blue Plate Catering in Chicago is preparing the healthy and delicious meals for Good Morning America's "Lock the Door, Lose the Weight" recruits.
Try his delicious and healthy recipe for White Bean Soup with Chard and Delicata Squash on your own.
Ingredients
3 ounces extra virgin olive oil
3 cups yellow onion, 14 inch dice
3 tablespoons shallots, minced
1 1/2 tablespoon of garlic, minced
2 teaspoon fennel seeds
1 teaspoon black peppercorns
1 teaspoon coriander seeds
1/2 teaspoon red chile flakes
3/4 cup carrot, 1/8 inch dice
3/4 cup celery root, 1/8 inch dice
3/4 cup fennel bulb, 1/8 inch dice, reserve 1/2 cup fronds
1 cup crimini mushrooms, 1/4 inch slices
1 1/4 cup roma tomatoes, 1/4 inch slices
10 thyme stems
20 parsley stems
1 bulk sage
2 fresh bay leaves, tie all herbs together in a tight bundle with a small piece of butcher?s twine to make an herb bouquet
1 pint dry white wine
12 ounces beans (cannelinni, flageolet, or navy beans), soaked in 64 ounces water overnight
64 ounces chicken stock (preferably homemade)
1 smoked ham hock, split, roasted (have butcher split)
1 bunch red swiss chard, chiffonade
1 cup wheatberries, soaked overnight in 32 ounces of water
5 cup vegetable stock
2 delicata squash
3/4 cup green onion, bias cut, green parts only
1/2 cup fennel fronds, reserved
Kosher salt, to taste
Black pepper, freshly ground, to taste
Aged balsamic vinegar, to taste
Cooking Directions
Preparation: Begin the day before you want to cook and serve the soup by soaking beans and wheatberies, see above for quantities.
Roast split ham hock in a 400 hundred degrees oven for thirty minutes. Add one and a half ounces of extra virgin olive oil to a medium hot two and a half gallon cast iron casserole or dutch oven. Add onions and slightly caramelize stirring frequently. While onions are caramelizing, split delicata squash and remove seeds and membrane, rub cut halves with a half ounce of olive oil and liberally season with kosher salt and fresh ground pepper. Roast squash cut side down on a sheet pan in a four hundred degree oven until just tender, a half hour to forty-five minutes, or as long as needed. In a dry skillet over medium high heat, toast fennel seeds, coriander, peppercorns and chile flakes until fragrant. Remove to a cool container and reserve. Add shallots and garlic to onions and cook until garlic is a pale golden color, stirring frequently. Add reserved spice mixture and cook for two minutes longer stirring frequently. Add carrots to casserole and cook for five minutes or until tender stirring frequently. Repeat this process with celery root and then again with fennel bulb. Add crimini mushrooms, season liberally with salt and fresh ground black pepper. Cook until mushrooms release all of their liquid and have shrunk to half their original size. Add tomatoes and a pinch more salt and cook for fifteen minutes or until seventy-five percent of the water from the tomatoes has evaporated.
Add white wine, bouquet garni and smoked pork hock and reduce by half. add chicken stock and soaked white beans (drained of excess liquid ) bring to a boil, reduce heat to a low and simmer covered one and a half to two hours. Depending on the beans they may require longer cooking. The beans should be completely cooked and tender, but not falling apart and mushy. Season vegetable stock with salt and freshly ground pepper to taste. Place wheatberries and vegetable stock in a two quart pot and bring to a boil. Simmer until wheatberries are tender, thirty to forty-five minutes. Drain wheatberries and spread out on a sheet pan to cool, reserve.
Peel delicata squash and carefully dice into quarter inch cubes. Combine wheatberries, squash, bias cut green onions, and remaining one ounce of extra virgin olive oil, season to taste with kosher salt and freshly ground black pepper. reserve. Taste bean soup. add any additional kosher salt and freshly ground pepper to taste. Check the consistency of the bean soup, if it is too loose, increase heat and reduce until desired consistency. If too thick, add additional chicken stock or water. Whether the soup is thin and loose or thick like a ragout is a matter of personal taste. Remove bouquet garni and ham hock from soup. Add aged balsamic vinegar to taste to soup; it should dramatically perk up the flavor. Bring soup back up to a low boil and stir in swiss chard. Remove from heat, cover and let rest two minutes. Stir again. Ladle soup into wide shallow bowls that have been warmed. Using two serving spoons, make quenelles of the squash-wheatberry mixture and spoon into the center of the soup. Garnish soup with reserved fennel fronds. Pass additional aged balsamic vinegar on the side.
Recipe Summary
Main Ingredients: shallots, garlic, cannelinni beans, wheatberries
Course: Appetizer/Starter, Lunch, Soup
More Info: Low Saturated Fat, Heart Healthy