Emeril's Peach Crumble
Emeril Lagasse's Summer Treat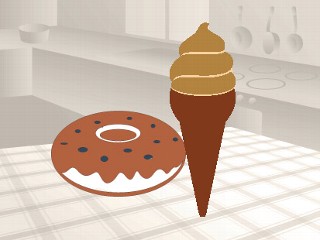 From the kitchen of Emeril Lagasse
Summer is coming to an end and it's time to take advantage of the season's best fruits while they're still as sweet as can be.
Sweet peaches flavored with brown sugar, cinnamon, and nutmeg are topped with crunchy pecans. The combination makes for a delectable summertime pie.
Ingredients
Pie Crust
1 1/4 cups flour
1 teaspoon sugar
1/2 teaspoon salt
1 stick butter, cut into small pieces
3 tablespoons ice water
Filling
1 1/2 cups water
1/4 cup light brown sugar, packed
2 tablespoons cornstarch
1/2 teaspoon salt
1 teaspoon ground cinnamon
1/2 teaspoon grated nutmeg
Pinch black pepper
2 pounds peaches, peeled, pitted and cut into wedges (about 3 cups)
Topping
1/2 cup light brown sugar, packed
1/2 cup flour
1 cup pecans
1/2 stick butter (4 tablespoons), cut into small pieces
1/4 teaspoon ground cinnamon
1/4 teaspoon grated nutmeg
Cooking Directions
Crust
Combine the flour, sugar, and salt in a mixing bowl. Add the butter and work into the dry ingredients using your hands until the mixture resembles coarse crumbs. Mix in the water. Form into a flattened ball, wrap in plastic wrap and refrigerate for about 1 hour.
Pat out the dough on a lightly floured surface and dust it lightly with flour. Roll the dough into a circle, 12 inches in diameter and 1/8 inch thick. Place the crust in a 9-inch pan. Crimp the edges. Refrigerate until ready to use.
Filling
Combine the water, brown sugar, cornstarch, salt, cinnamon, nutmeg and pepper in a saucepan over high heat. Bring to a boil and whisk until smooth. Remove from heat.
Put the peaches in a bowl and pour the syrup over them. Toss to coat evenly. Let cool for 10 minutes.
Preheat your oven to 350 degrees F.
Pie Topping
Combine the sugar, flour, pecans, butter cinnamon and nutmeg in a mixing bowl. Using your fingers, work the mixture together. Form into a ball. Remove the pie crust from the refrigerator. Pour in the peach mixture and spread evenly. Crumble the topping evenly over the top of the peaches.
Bake for 1 hour, or until the crust and top are nicely browned.
Cool for 10 to 15 minutes before slicing to serve.
Recipe Summary
Main Ingredients: peaches, brown sugar, nutmeg
Course: Dessert