Chocolate Craqueline Mousse Cake
An Impressive Cake From the Spago Menu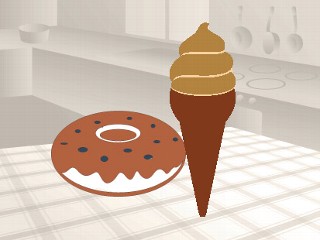 From the kitchen of Mary Bergin
|
This cake makes frequent appearances on the Spago menu. It is a spectacular cake, not difficult to prepare, and will be a most impressive addition to your repertoire.
The craqueline that we use in the restaurant is supplied by large companies in large quantities. However, because craqueline tastes so much like crushed sugar cones, we decided to use the sugar cones for the recipe. Sugar cones can be purchased in many supermarkets.
Ingredients
Cake
5 ounces milk chocolate, cut into small pieces
8 sugar cones
1/2 cup creamy peanut butter
1/4 cup Sugar Syrup
1/2 recipe Chocolate Mousse
1 cup Ganache
Equipment
10- x 3-inch round cake pan (or 10-inch springform pan)
medium heat-proof bowl
rolling pin
long serrated knife
10-inch cardboard round
soft pastry brush
long spatula,
pastry bag (with No. 3 star tip)
wide spatula
Cooking Directions
Bake the Chocolate Chiffon Cake as directed in a 10 x 3-inch round cake pan until a cake tester gently inserted into the center of the cake comes out clean, about 35 to 40 minutes. Cool on a rack.
Make the craqueline filling: In a medium heat-proof bowl set over a pan of simmering water, melt the chocolate, stirring occasionally. Meanwhile, enclose the cones in a plastic bag and run a rolling pin over the bag, crushing the cones into very small pieces. Remove the chocolate from the heat, stir in the peanut butter, then fold in the crushed cones. Set aside.
Assemble the cake: With a long serrated knife, cut into three layers. Saving the most level layer for the top, set the first layer on a 10-inch cardboard round. With an offset spatula, spread the craqueline filling over the cake. Set the second layer on the craqueline filling, pressing down gently to secure. With a soft pastry brush, brush the Sugar Syrup over the second layer then spread the mousse over, leveling with a long clean spatula, making it as smooth as possible. Top with the last layer and refrigerate until the mousse sets, about 30 minutes.
When ready to frost, remove the cake from the refrigerator and brush away any excess crumbs from the top of the cake. Using an offset spatula, frost the top of the cake only with the Ganache. (The sides remain unfrosted so that the layering effect is visible). Spoon the remaining Ganache into a pastry bag fitted with a No. 3 star tip and decorate the cake with rosettes. Refrigerate until firm, at least 30 minutes. Remove the cake from the refrigerator, run the blade of a long sharp knife under the cake, then slip a wide spatula directly under the cake and transfer to a clean plate. Refrigerate until needed, removing about 30 minutes before serving.
To prepare ahead: Through step 3, the cake can be made 1 day ahead. Through step 4, the cake can be assembled early in the day it is to be served.
Recipe copyright ©1999 by Mary Bergin
Other Recipes That You Might Like