Skibo Castle Ginger Crunch
These Cookies Are Bars of Sweet Shortbread.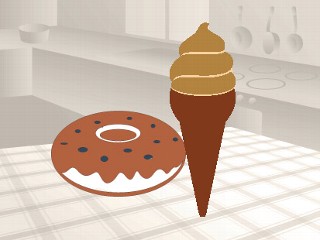 From the kitchen of Doon Fergusson-Howlett
|
Bake a batch of Skibo Castle Ginger Crunch, shortbread cookies that come comlpete with a yummy ginger topping!
Ingredients
Shortbread Base
1 1/4 cups all-purpose flour
3 tablespoons granulated sugar
1 teaspoon baking powder
1 teaspoon ground ginger
1/4 teaspoon salt
1 stick unsalted butter, cold and cut into pieces
Topping
3/4 stick unsalted butter
1 tablespoon Lyle's Golden Syrup (British cane sugar syrup)
1 cup confectioners sugar
1/2 teaspoon ground ginger
1/2 teaspoon vanilla
Cooking Directions
Preheat oven to 350 F and grease a 13-by 9-inch metal baking pan.
Make shortbread base: Sift together dry ingredients and blend in butter with your fingertips until mixture resembles coarse meal. Press evenly into bottom of pan (base will be thin). Bake in middle of oven until golden and crisp, 20 to 25 minutes.
Make topping just before shortbread is done: Melt butter in a small saucepan and whisk in remaining ingredients until smooth. Bring to a boil and simmer, stirring, 30 seconds.
Pour topping: Remove shortbread from oven and pour topping over, tilting pan to cover shortbread evenly. Cool in pan on a rack, then cut into small rectangles (8 rows lengthwise and 8 crosswise).
Other Recipes That You Might Like