Fran Gallagher Ripsom's Chocolate-Peanut Butter Pinwheel Cookies
A Treat for Sweets-Lovers of All Ages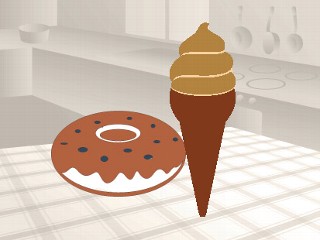 From the kitchen of Fran Gallagher Ripsom
|
Fran Gallagher Ripsom gives GMA her secret to the perfect pinwheel cookie. Enjoy one of these chocolate and peanut butter wonders with a glass of milk.
Ingredients
Filling
6 oz semisweet chocolate chips
1/2 cup chunky peanut butter
Dough
2 sticks unsalted butter, softened
3/4 cup sugar
1 large egg
1 teaspoon vanilla
2 1/4 cups sifted all-purpose flour (sift before measuring)
1/2 teaspoon baking powder
1/4 teaspoon salt
Cooking Directions
Make Filling
Melt chocolate in a double boiler or a metal bowl set over a pan of barely simmering water, stirring occasionally, and remove from heat. Stir in peanut butter.
Make Dough
Beat together butter and sugar with an electric mixer until light and fluffy, then beat in egg and vanilla. Sift flour, baking powder, and salt into egg mixture and beat until combined well.
Assemble Rolls
Halve dough and roll out each half between sheets of wax paper into a roughly 12" x 8" rectangle. Remove top sheets of wax paper (if they stick too much, chill dough briefly to firm up slightly) and divide chocolate filling between rectangles, spreading it in an even layer. Tightly roll up each rectangle jelly-roll fashion, beginning with a long side and using wax paper as an aid, to form a 12" log. Wrap rolls in wax paper and then foil. Chill rolls until firm, at least two hours.
Preheat oven to 350 F.
Working with 1 roll at a time (keep remaining roll chilled), cut rolls crosswise into 1/8 inch thick slices and arrange slices one inch apart on ungreased baking sheets. Bake in batches in middle of oven until pale golden and set, 8 to 12 minutes. Transfer warm cookies to racks to cool.
Other Recipes That You Might Like