Charlie's Pumpkin Chiffon Pie
Eat a Slice Watching World News Tonight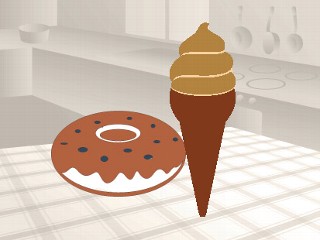 From the kitchen of Charlie Gibson
|
Charlie, Diane, Tony and Robin shared their favorite holiday recipes with Good Morning America viewers today.
You can use their recipes for your Thanksgiving, Christmas or any holiday feast, including Charlie's Pumpkin Chiffon Pie.
Ingredients
Good Morning America, co-hosted by Diane Sawyer, Robin Roberts, Chris Cuomo and Sam Champion, features recipes by gourmet chefs in the GMA test kitchen every morning. This recipe for Pumpkin Chiffon Pie, a dessert recipe, is brought to your kitchen by Charlie Gibson.
Cooking Directions
In a small oven proof bowl, sprinkle gelatin over water. Place bowl over small pot of simmering water until dissolved.
In a medium saucepan, cook together the brown sugar, egg yolks, pumpkin puree, milk, salt and spices for 7 to 10 minutes, stirring constantly with a wire whisk until mixture boils and thickens.
Remove from heat and add gelatin and mix thoroughly. Cool for at least 15 minutes.
In a large bowl beat egg whites with sugar until soft peaks form and fold into the cooked mixture.
Put mixture in shell and refrigerate overnight. Serve with whipped cream.
Other Recipes That You Might Like