Emeril's Cranberry Apple Pie
Emeril Lagasse's Thanksgiving Dessert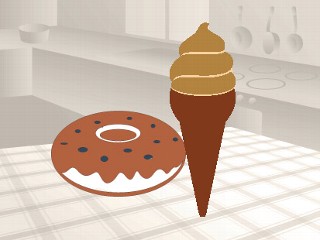 From the kitchen of Emeril Lagasse
|
Emeril loves to make this pie for his own family on Thanksgiving and now he shares this very special recipe with you. The combination of cranberries, apples and sweet walnut topping will make your mouth water.
Ingredients
Basic pie dough to fill 9-inch pan either store bought or make your own (ingredients and recipe below, if you want to make your own)
1 3/4 cups light brown sugar
5 tablespoons cornstarch
1 tablespoon ground cinnamon
1 teaspoon ground nutmeg
1 teaspoon salt
1 pound Granny Smith apples, peeled, cored, and cut into 1/4-inch slices (about 4 cups)
2 cups fresh cranberries, rinsed and picked over
2 tablespoons lemon juice (freshly squeezed)
10 tablespoons unsalted butter, cut up
3/4 cup granulated sugar
2 tablespoons heavy cream
1 teaspoon pure vanilla extract
1 cup walnut pieces
Ice cream (optional)
Basic pie dough
2 1/4 cups of flour
2/3 cup unsalted butter (10 2/3 tbsp.),very cold (or shortening, or lard)
1/2 tablespoons of water
1 teaspoon salt
Cooking Directions
Preheat the oven to 350 degrees Fahrenheit
Prepare the Basic Pie Dough and line pie pan (recipe below) Refrigerate until ready to fill.
In a bowl combine the brown sugar, cornstarch, cinnamon, nutmeg, and salt, and mix well. In another bowl combine the apples, cranberries, and lemon juice, and toss well. Pour the dry mixture in your other bowl over the fruit mixture. Melt 2 tablespoons of the butter and pour it over it all and mix thoroughly.
Turn the mixture into the pie shell and bake the pie until the fruit is tender, for about 1 hour. Remove from the oven and set the pie on a rack to cool. 6. In a large skillet on medium heat, melt the remaining 8 tablespoons butter with the granulated sugar. Cook, stirring, until the mixture is bubbling and the consistency of a thick roux, for about 5 to 6 minutes.
Stir in the cream, vanilla, and walnuts and cook, stirring constantly, for 4 minutes. Remove from the heat and cool for 20 minutes. Spoon the topping over the cooled pie and refrigerate overnight.
Basic Pie Dough
In a bowl combine 2 1/4 cups flour and 1 teaspoon salt. Add 2/3 cup very cold unsalted butter, or shortening, or lard. Work it through with your hands until the mixture resembles coarse crumbs. Using a fork, stir in 4 1/2 tbsp. water, 1 tbsp. at a time. Work it in with your hands just until you have a smooth ball of dough. Don't overhandle the dough.
Wrap in plastic and refrigerate for 20 minutes. Remove dough from the refrigerator and roll out onto a floured surface. Unfold it into a 9-inch pie pan. Crimp the edges, or pinch the border.
To serve, cut the pie into wedges, and add a scoop of ice cream, if you like.
Courtesy of Emeril Lagasse c. 2000
Other Recipes That You Might Like