White Bean Shrimp Toasts
A Great Starter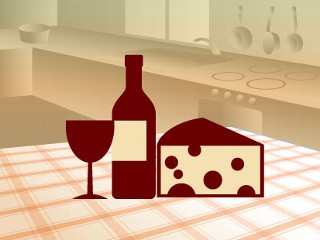 From the kitchen of Sara Moulton
This easy appetizer is perfect for a family dinner or as hors d' oeuvres for your next party.
Ingredients
Toasts
1 loaf Italian Bread (or French bread), sliced crosswise (or 1 loaf day old bread or 1 box crackers)
White Bean Spread
1 can white beans
2 cloves garlic, minced
1 to 2 tablespoons olive oil
Dash white wine vinegar
Shrimp Topping
1 bottle artichoke hearts (in olive oil)
1 can shrimp
1 pinch hot red-pepper flakes, or to taste
1/4 cup pimento-stuffed Spanish olives, sliced
Cooking Directions
Grill small slices of bread in a grill pan or use day old bread that has been cut into small triangles. Another option is to use a box of crackers.
Drain 1 can white beans, rinse, and mash them. Stir in olive oil, white wine vinegar, and salt and pepper to taste. Spread white bean puree on toasts.
Drain bottled artichoke hearts, saving the liquid. Chop hearts coarsely. Drain can of shrimp and toss them with the artichoke liquid and hot red pepper flakes. Gently fold hearts back into mixture and mound some on toasts. Garnish with olives.
Recipe copyright ©1999 by Sara Moulton
Recipe Summary
Main Ingredients: white beans, artichoke hearts, shrimp
Course: Appetizer/Starter, Snack, Side Dish