Chili Chicken Tortilla Soup
Sara Moulton's Warm and Spicy Starter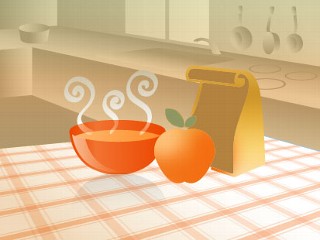 From the kitchen of Sara Moulton
Sara Moulton shared her recipe for Chili Chicken Tortilla Soup with Good Morning America.
Ingredients
1 can chicken broth (14 1/2 oz - preferably reduced sodium)
1 can Mexican-style diced tomatoes (14 1/2 oz.), undrained
1 can mild green chilies (4 1/2 oz.), diced and undrained
1 can corn (12 to 16 oz.), drained
1 can chicken breast (10 to 12 oz.), drained
1 cup tortilla chips (preferably unsalted), coarsely crumbled
Cooking Directions
In a medium saucepan, bring the broth, tomatoes and chilies to a boil.
Stir in corn; reduce heat, simmer 2 minutes.
Add chicken, stirring gently to keep pieces from breaking up too much. Simmer 1 minute until heated through.
Ladle into bowls and sprinkle with tortilla chips, stirring chips into hot soup.
Tip: Stir 2 tablespoons chopped fresh cilantro into the soup along with the chicken.
Nutritional Information Per Serving: 300 calories; 11 g fat; 45 mg cholesterol; 1,090 mg sodium; 30 g carbohydrate; 3g fiber; 21 g protein
Recipe copyright ©1999 by Sara Moulton
Recipe Summary
Main Ingredients: tomatoes, green chiles, tortilla chips
Course: Appetizer/Starter, Soup, Snack, Lunch