Wolfgang's Savory Squash Soup
To Warm You This Winter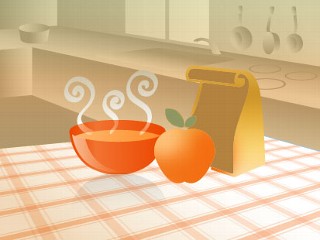 From the kitchen of Wolfgang Puck
This soup can be served warm or cold. The ginger and cardamom enhance the sweetness of the squash and add an exotic note. For the vegetarian, the soup can be made with a vegetable stock.
Ingredients
2 butternut squash (about 3 3/4 pounds)
1 acorn squash (about 1 3/4 pounds)
6 tablespoons unsalted butter (3/4 stick)
1 white onion (about 4 ounces), peeled, trimmed and finely diced
1/2 teaspoon kosher salt
1/8 teaspoon freshly ground white pepper
1/4 teaspoon ground nutmeg
1/4 teaspoon ground ginger
1/8 teaspoon ground cardamom
4 cups chicken stock (homemade or store-bought - or vegetable stock)
1 cup heavy cream
1 sprig fresh rosemary
Cooking Directions
Preheat the oven to 350 degrees
Cut each squash in half and discard the seeds. Brush cut sides with 2 tablespoons of melted butter. Season with salt, pepper and nutmeg. Arrange the squash cut side down on a rack placed in a baking tray and bake until tender, about 1 1/2 hours. Cool, scoop out the insides of the squash, and purée the flesh in a food processor. Reserve. (You should have about 4 cups of puréed squash.)
In a medium stockpot, melt the remaining 4 tablespoons of butter. Over low heat, sweat the onion. Do not allow it to brown. Add the puréed squash and cook over very low heat until heated through, stirring occasionally. Do not allow it to bubble up. Season with the salt, pepper, ginger and cardamom.
Pour in the stock and bring to a boil, still over low heat, stirring often. Cook about 20 minutes. In a small saucepan, heat the cream with the rosemary sprig. Remove the rosemary and pour the cream into the soup. Transfer to a blender or food processor and process, in batches, for 2 or 3 minutes. Adjust the seasoning to taste.
To serve, ladle the soup into heated bowls. You could garnish with Cranberry Relish, Cardamom Cream, and chopped pecans. Drizzle pumpkin seed oil over soup. *Note: If desired, bake small squash until tender, scoop out, and use as individual serving bowls.
© 2000 Recipe courtesy of Wolfgang Puck's Pizza, Pasta and More!
Recipe Summary
Main Ingredients: squash, white onion, cardamom, stock
Course: Appetizer/Starter, Lunch, Soup
More Info: Vegetarian