Emeril's Shrimp and Corn Salad
A Unique Salad From Emeril Lagasse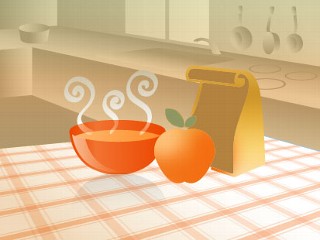 From the kitchen of Emeril Lagasse
|
Impress your friends with a different kind of salad. Emeril Lagasse's recipe for Shrimp and Corn Salad will serve about 10 guests, depending on the size of the portions you dish out. If you prefer grilling your shrimp and corn over boiling, you may do so. Just remember to be careful of your flame — you don't want to burn them.
Ingredients
8 cups water
1 lemon, halved
1 tablespoon liquid Zatarian's Concentrated Shrimp and Crab Boil
2 bay leaves
1 tablespoon plus 1/2 teaspoon salt
2 cups fresh sweet corn kernels (from 2 medium-size ears)
1 1/2 pounds medium-size cooked shrimp, peeled and deveined
1/2 cup olive oil
2 tablespoons Dijon mustard
1 tablespoon fresh lemon juice
1 teaspoon hot sauce
1/2 teaspoon freshly ground black pepper
1/2 teaspoon garlic, minced
2 tablespoons fresh basil leaves, chopped
1/2 cup red onion, chopped
1 pint cherry tomatoes, halved
1/2 cup red bell pepper, chopped
1/2 cup yellow bell pepper, chopped
Cooking Directions
In a large pot, combine the water, the juice from the lemon halves (you can add the rinds too) the boil, the bay leaves and 1/2 tablespoon of the salt. Bring to a boil, add the corn, and cook for 5 minutes. With a skimmer, remove the corn from the boiling liquid, put it in a shallow bowl and let it cool completely.
In a small mixing bowl, combine the olive oil, mustard, lemon juice, hot sauce, the remaining 1/2 teaspoon salt, the black pepper and garlic. Whisk to blend well.
In a large salad bowl, combine the corn, shrimp, basil, onion, tomatoes and bell pepper. Add the dressing and toss to mix. Cover and chill for at least 2 hours before serving.
1 tablespoon of bay seasoning may be substituted for the Crab Boil if you cannot find it.
c. Emeril Lagasse, 2000
Other Recipes That You Might Like